Last Updated on August 2, 2023 by John Robinson
Pioneer is a Japanese company that specializes in creating audio and video equipment such as speakers, amplifiers, displays, receivers, and other related equipment. The Pioneer brand is often associated with items that are of high quality and performance-driven products. Pioneer's products are known to be high performing, reliable and durable.
Brief History
Pioneer Company has been around for more than 70 years since the year 1938 when it started as a radio repair shop in Japan. It was founded by Nozomu Matsumoto and started out as a small company. The first product that was introduced under the Pioneer brand was a multi-band receiver and the company continued to grow with this business model.
Manufacturing
Pioneer is also known for its research and development department which constantly comes up with new sound systems and audio devices such as amplifiers, speakers, receivers, CD players, DVD players, etc. Pioneer has an amazing lineup of car audio system products such as subwoofers, amplifiers, speakers, etc.
Car Audio System
Pioneer produces some of the best car audio system products in the world with many models to choose from. They are known to produce high-quality products at an affordable price. Pioneers products are some of the best in the market and will surely give value for your money.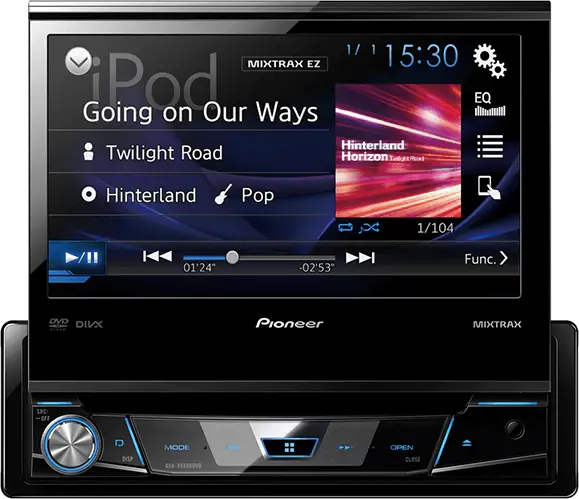 Pioneer is a brand that people can trust as it has been in the market for more than 70 years and as mentioned earlier, is known for its high performing and durable products.
Pioneer car stereos
If we talk about the car stereos, the Pioneers lineup is quite impressive. They have the best 6-inch to 7-inch double din head units for your car at an affordable price. The stereo is known for its crisp sound quality and best-in-class features.
Pioneers car stereo system lineup is quite strong with plenty of options to choose from. They have a wide range of car stereos with different features and come in excellent finishes. Some of the head units are waterproof designed and have a built-in amplifier.
The stereos come with double din, touch screen, Bluetooth compatibility, Built-in GPS, and other advanced features to make your drive a lot more fun. The price range varies from a few hundred dollars for basic double din stereos to a few thousand dollars for premium models.
Pioneer Amplifiers
If we talk about the amplifiers from Pioneer, they have quite an extensive lineup of amplifiers for your car. They have 2-channel, 4-channel, and even 5-channel amplifiers. The average price of the Pioneer amplifier is around $100-$300 which is affordable.
Pioneer has a good set of amplifiers with high power ratings usually upwards of 500watts. They are known to produce high quality, durable and reliable products. Moreover, they have a wide range of products to choose from for your car audio system. They are also very easy to install and come with all the wiring you need for installation, making it.
Pioneer Car Audio Speakers
Pioneer is also known for its exceptional speaker lineup. They have a huge range of speakers and subwoofers that will give you great value for your money.
Pioneers speaker lineup is quite strong with many models to choose from. They have speakers that are designed for maximum performance and clarity. The sound quality of the Pioneer speakers is bright and crisp which you will appreciate hearing while playing your music.
The speakers come with great features such as deep bass impact, a long-throw woofer cone. The price varies depending on the speaker model. But you can get a decent model for as low as $100 and as high as $200.
Why Pioneer is a Good Brand?
Use of Up-to-Date Methods and Technologies
Pioneer is always at the forefront in adopting the latest technology and designs. Pioneer is known for its high-quality and reliable products with great features. And it is marketed under the pioneer brand which has an excellent reputation for its high-performance products.
If we look at the Bluetooth connectivity, the stereos can connect dual mobile phones simultaneously. So you can conveniently switch from one phone to another just by a touch of a button on the stereo.
The new models come 10.1″ multi-touch widescreen display which is the biggest in the industry. Pioneer is always quick to adopt and use new designs and technologies to make their products cutting edge.
Features Compatibility
If we look at their Car stereos, they have a very wide lineup of car stereos with various features and designs. They have a huge collection of car stereos with features such as Bluetooth compatibility, HD radio, Voice command, USB, CD Player, etc.
They even have a high-end model with built-in GPS, 10.1-inch widescreen display, HDMI input, Android Auto and Apple CarPlay, etc.
Expandability Options
Pioneer is known for its expandability. The Pioneer car stereos come with a wide range of accessories that lets you add on and enhance the functionality of your car stereo.
They have are subwoofers, amplifiers, installation kits, remote controls, etc. which allows you to build a complete system for your car. They are compatible with many other brand accessories too.
You can install front and rear cameras to your Pioneer car stereo. This will help you have safe driving as you can see what is behind the car when backing up or parking.
You can also connect your steering wheel controls to the Pioneer stereo so you don't have to take your hands off the steering wheel while changing songs.
Pioneer Car Audio Quality and Power
With the driving in mind, Pioneer car stereos are built to deliver excellent audio quality with great power. The car head unit can produce low bass, smooth mid-range, and crisp highs which is the staple of every good sound system.
The sound stage and separation are great and you will be impressed by the dynamic range of these models.
Pioneer car audio is designed to deliver powerful sound while maintaining clarity across all frequencies. The car stereo can produce power equal to a 2-channel amplifier which is good enough for most people.
They have a built-in high and low-level RCA for powering up additional amplifiers or subwoofers.
Affordable Price
Pioneer is known for its affordable price. The brand itself is well established and has a good reputation for its quality products.
They are known to make products with good value for money. The price range can vary but you can get a model for less than $200 which is extremely affordable considering its features and design.
The price range goes to over $1000 for their high-end models which are aimed at audiophiles who want the best of the best.
Conclusion
Pioneer is a great brand that has been in the market for decades. They are known for their high-quality products with cutting-edge design and technology. This makes them one of the most popular brands in their market segment. The prices are also very competitive which adds up to the good value for money.
So, is Pioneer a good brand? I would say it definitely is. They are known for their high-performance products that are built to last long. They are very popular around the world and have a significant market share in their segment.
I hope you enjoyed reading this article and it helped you know Pioneer a little better.
Frequently Asked Questions
Alpine or Pioneer, which music system is better for cars?
There is no definitive answer to this question, as it depends on personal preferences. Some people might prefer the sound of Alpine car audio systems, while others might prefer Pioneer car audio systems. Ultimately, it comes down to individual preferences. I like Pioneer car stereo more for its rich features and design at a reasonable price. Alpine is no doubt a good brand but from price to features, Pioneer wins.
How good is the quality of Pioneer speakers?
It's good. Pioneer makes a wide variety of quality speakers that fit a range of budgets. Whether you're looking for a set of budget-friendly bookshelf speakers, or want to splash out on some top-of-the-line tower speakers, Pioneer has something to suit your needs. So if you're in the market for some new speakers, Pioneer should definitely be at the top of your list.