Last Updated on January 4, 2023 by John Robinson
Running an auto repair business enables you to connect with several clients. This is true since several car owners are looking for auto repair services daily. Therefore, you'll likely make significant revenue by running your auto repair shop. 
While this is true, auto repair is one of the most competitive sectors today. There are various other businesses in the market that are similar to yours. And if you're not careful, your auto repair shop may have a difficult time emerging in the industry. For that reason, you need to find effective ways to manage your business endeavor to succeed. 
Here are some simple yet effective methods for managing a successful auto repair business.  
1. Invest In Marketing  
Marketing is perhaps one of the most effective approaches to running a successful auto repair shop. It involves dropping promotional messages or adverts to your target customers.  
The primary goal of marketing is to boost your company's viability. As a result, more car owners will be interested in learning about your auto repair services. Therefore, they'll likely come to your shop anytime they need to repair their motor cars.  
You can use various auto repair marketing strategies to increase your company's visibility. Email marketing, content marketing, pay-per-click advertising, social media marketing, and print marketing such as flyers, brochures, postcards, and so on are examples of these. You can also collaborate with local TV and radio stations to help promote your auto repair service.  
2. Streamline Business Operations 
Another essential step you need to take to grow a successful auto repair shop is to streamline operations. This enables you to save time and money. As a result, you'll save a lot of resources in the long run.  
You may streamline your vehicle repair business operations through a variety of techniques. The most successful method, however, is to invest in various software. This entails acquiring technologies to automate marketing, accounting, asset management, personnel recruiting and onboarding, selling, and so on.
It's also advised to invest in a tire shop software if your auto repair shop also sells tires. These types of software include functions for managing inventory, billing data, and applying straightforward invoicing
Using these types of software simplifies processes and helps increase productivity. This is true since employees will utilize less time for maximum output. Therefore, if you want to run a successful auto repair shop, streamline your operations using this software. However, for the best results, you must select the best automation tools in the market.  
3. Work With The Right Team 
Employees are valuable assets to your auto repair business. They contribute to your company's success by carrying out certain tasks assigned to them. This ensures that you are not taking the entire burden on your shoulders.  
You can launch your auto repair shop without the assistance of any worker. However, you may want to find a few of them when your company starts to attract many customers. When hiring employees, you must ensure you find the right set of workers for the job.  
You can consider two main approaches to find the right team for your auto repair shop. One of them is partnering with recruiting agencies. Most of these companies are experts in finding and recruiting the best workers. Therefore, hiring one helps you to build the right team for your business. 
Investing in staff-hiring software is another method to establish the right team for your auto repair shop. You can use the program to thoroughly screen job applicants to only interview the most qualified candidates. By doing that, you'll be able to set up the ideal team for your business. 
However, finding the right team isn't enough. You must also train your employees regularly. This allows them to obtain new information and abilities, allowing your business to stay current. In addition, ensure your workers have the proper equipment as well.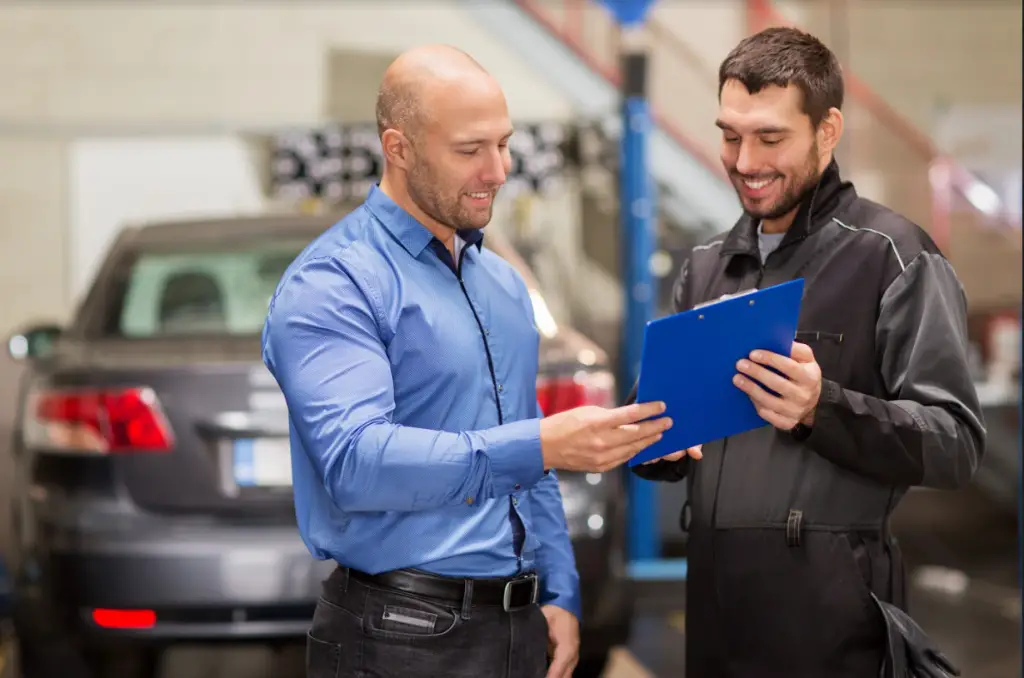 4. Focus On Customer Experience
Your customers' satisfaction is critical to the success of your vehicle repair shop. It ensures that your customers, whether they shop in person or online, will be satisfied with your products and services.
Good customer experience helps you to grow a successful auto repair shop in various ways. For instance, it enables you to retain and gain new customers.
In addition, providing superior service to your current customers encourages them to promote you to their friends and family members. It's all good for your bottom line. As a result, you're able to expand your business.  
Auto repair shops have a lot of options when it comes to improving customer satisfaction. For example, customers who pay you to maintain and fix their cars want you to deliver high-quality work. 
Furthermore, ensure you're always responsive to online customers. Installing customer-engagement chat software or employing customer-service representatives can help you accomplish this goal. Do note that if you don't respond to your customers promptly, they may turn to one of your competitors.
Takeaway
Growing a successful auto repair shop isn't always a walk in the park because of the high competition in the market. However, you can run a successful auto repair shop by taking the steps explained in this article.