Disclaimer: As an Amazon Associate I earn from qualifying purchases. Without Any Extra Cost to You!
Last Updated on August 25, 2022 by John Robinson
Are you looking for the best conventional motor oil in the market? 
Not adding the right amount or type of oil to the vehicle could ruin your engine. When it comes to conventional oils, you must find the best quality, most compatible, and affordable product in the market. I have examined several products in the market and reviewed them one by one below in this post. I hope that you will be having the right product in your hands before your next oil change. 
Best Conventional Motor Oil 
1. AmazonBasics Conventional Motor Oil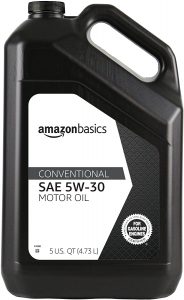 You don't have to drive to Walmart or any other supermarket to purchase a brand name conventional motor oil. Now AmazonBasics can supply you a Grade A motor oik right at your doorstep. Branded oils may come with more certifications, but they are 30-40 percent more expensive than this product. Plus, there is not really much of a difference between the quality, efficacy, and performance between larger brand names and AmazonBasics.
This product from AmazonBasics works best for vehicles like cars, motorcycles, trucks, etc. Regularly adding this oil to your engine will keep it protected and lubricated for at least six months. On top of that, this product also comes with essential oil certifications like API SN and ILSAC GF-5. Judging by its features and quality, I would say you are getting a high-end product at a low price.
AmazonBasics Conventional Motor Oil is Suitable For – 
AmazonBasics Conventional Motor Oil works best for someone looking for an affordable yet high-quality product. You can use this oil for your vehicle's routine maintenance. The synthetic ingredients in this oil add a protective coating over the components of an engine. On top of that, it also keeps the parts lubricated, so the friction does not lead to wear and tear. The hard-working formula prevents unwanted built-up that could potentially damage the engine. 
Pros:
Reduces friction for less engine wear. 
Keeps your engine from getting eroded due to unwanted built-up.
Affordable. 
Good customer service and high-priority home delivery by Amazon. 
API SN and ILSAC GF-5 certified.
Cons:
The container is opaque. There should be a strip that can tell how much oil is left is the container.
Does not come with a datasheet or user's manual. 
2. STP Conventional Motor Oil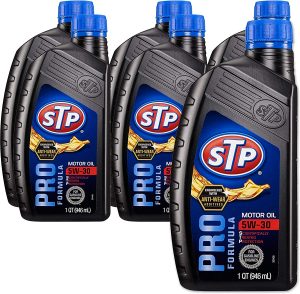 STP stands for "Scientifically Treated Protection". For the last seven decades, this American motor oil manufacturer has provided products that are backed by science and technology. Even in the mid-fifties, this group believed that science and technology have a huge role to play as far as automobiles are concerned. The STP Motor Oil Synthetic 5W30 adds a protective layer over the engine components to protect them from wear.
The package comes with a total of six bottles (each weighing a quart or 946 ml). This product is ILSAC GF-5, and API SN certified. It is suitable for all land vehicles. Beyond that, this conventional motor oil also prevents the engine from the damaging effects of rust and corrosion. This motor oil has friction modifiers to smoothen the piston edges. The active cleaning agents make sure that the engine remains good as new.
STP Conventional Motor Oil is Suitable For – 
No other product beats STP Motor Oil Synthetic 5W30 in terms of the features it has to offer. Also, a single bottle of this conventional motor oil is available at less than five dollars. The more miles your vehicles have covered, the more thought one must put on the price of motor oil. It does not make sense to use super-expensive motor oil to service a car that has covered more than 100,000 miles. This where this product comes into the picture.
Pros:
Protects your vehicle engine from the effects of rust and corrosion. 
Lubricates every part of the engine. 
The active cleaning agents keep the engine running smoothly for years.
Affordable product.
Tried and tested product—reputed brand.
Cons:
A bit pricey than other conventional oils.
3. Castrol 03102 GTX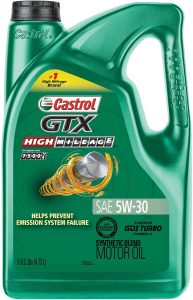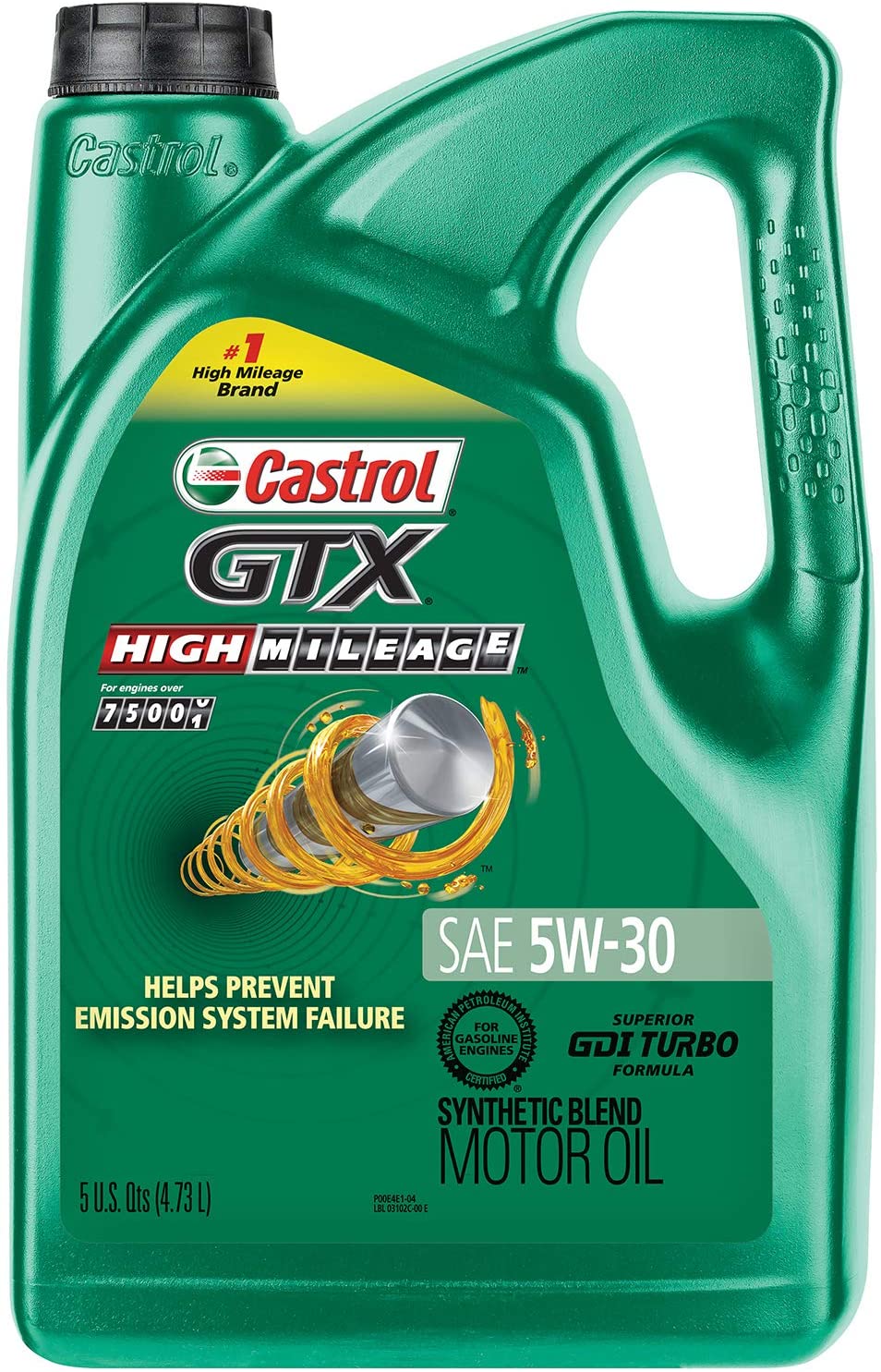 Castrol is a worldwide leader in high-performance lubricants for vehicles. It is one of the reputed companies in this field. Castrol 03102 GTX is partially synthetic motor oil for high mileage. Any land vehicle with a gasoline engine that says 5W-30 is suitable and can benefit from this oil. Instead of using a cheap no-name oil that most certainly will lead to a blown seal, gasket leak, or even oil burn-off, go for this tried and tested product. It will never let you down.
Keep in mind that this is not full synthetic engine oil. However, it will still extend the life of the engine, enhance fuel economy, and protect the engine from wear and tear in the long run. You should also know that this partially synthetic motor oil is equipped with Phosphorus Replacement Technology. This technology protects your vehicle from catalytic converter failure— one of the biggest problems faced by high mileage vehicles. 
Castrol 03102 GTX is Suitable For –
Does your vehicle have more than 75,000 miles under its belt? Castrol 03102 GTX is liquid engineered to protect the emission system of your vehicle. Relatively older vehicles are more prone to catalytic converter failure–which is caused due to accumulation of phosphorus. This semi-synthetic motor oil will safeguard your vehicle from this industry-recognized catalyst poison.
Pros:
It contains a minimal amount of phosphorus.
Improved fuel economy.
Protect your vehicle from catalytic converter failure.
It prevents the build-up of sludge.
Prevents "oil burn-off" and other combustion-related issues.
Cons:
The packaging needs some improvement. 
Not as good as a branded full synthetic oil.
4. Valvoline High Mileage SAE 5W-30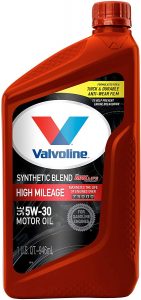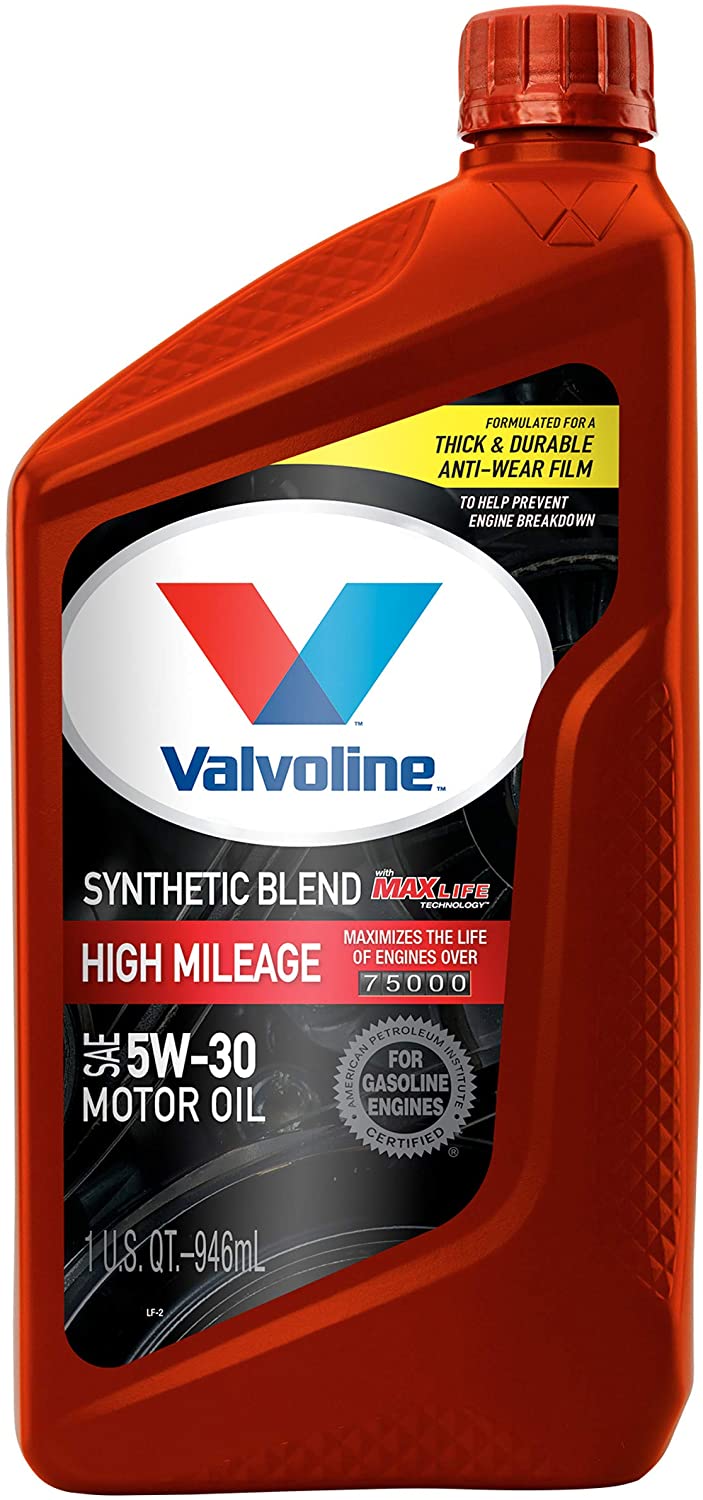 Valvoline High Mileage SAE 5W-30 is another partially synthetic motor oil. If you have used the STP conventional motor oil and are not happy with its performance, I would suggest that you try this product. Just like STP, this product, too, comes with six bottles in a case. A one-quart bottle will cost you a little over eight dollars. I know its a bit pricey, but you won't be disappointed 
Valvoline is one of the best engine oil manufacturers in American. It has been active in the market for more than 150 years. Over the years, vehicle owners have relied on this product for maintenance and enhancement of the engine. The thick and durable anti-wear films offer additional protection against rust and corrosion. Further, the easy-to-pour container has a precision pour spout– liquor bottles are equipped with a pour spout.
Valvoline High Mileage SAE 5W-30 is Suitable For –
This partially synthetic motor oil works best for vehicles over 75,000 miles. Does your engine leak oil? Have you tried every other solution in the market with no results? On your next oil change, use this product and see the difference in a few days. Although, do not expect immediate results. Give at least two oil changes before you judge its performance.
Pros:
It comes with a unique easy-to-pour container.
American owned company.
The thick anti-wear film protects the engine against friction.
Fights sludge and deposits.
Can give a new lease of life to an old beat-up vehicle.
Cons:
The manufacturer should improve the overall packaging of this product.
This product does not come with dexos (an oil certification that signifies high fuel efficiency).
5. Castrol 03060 GTX Magnatec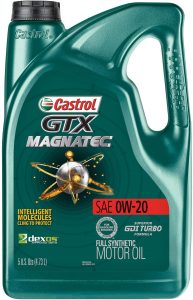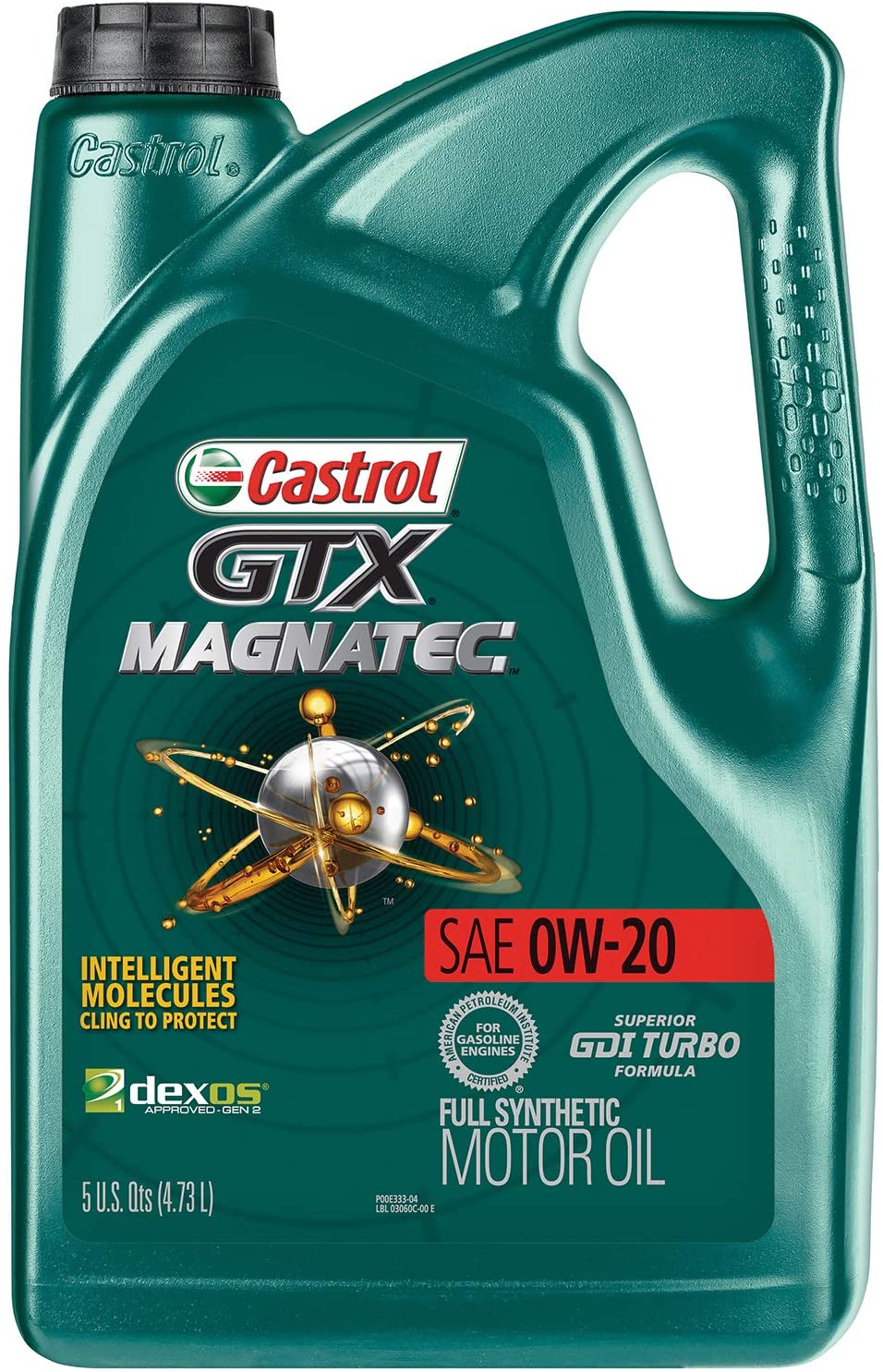 Are you looking for the best full synthetic motor oil for your vehicle? This motor oil is equipped with intelligent molecules that attach themselves to the metal. These molecules are magnetic (hence the name Magnatec), and therefore they cling on to the metal, keeping it protected for a longer duration than an average conventional or partially synthetic oil. This is not a synthetic blend oil; it is 100 percent synthetic. 
The package includes a five-quart can of full synthetic motor oil. As far as price is concerned, a single quart of this synthetic oil is not much costlier than a conventional or synthetic blend oil. Castrol also claims that this engine oil gets to work the moment you perform your first oil change. Most engine oils activate 20 minutes after the engine has started. 03060 GTX Magnatec works 24×7–even when the engine is off. 
Castrol 03060 GTX Magnatec is Suitable For –
Castrol 03060 GTX Magnatec is API SN, ILSAC, GF-5, and GM dexos1 certified. The oil certifications demonstrate that this product is made following the United States automotive industry standards. 
This product works best for those who dislike going to the lube shop for a mere oil change. Not only do the lube shops charge you more, but it is also quite time-consuming to drive to the shop, talk to the employees, and sometimes wait in the line for your turn. 
Pros:
It is the most affordable full synthetic oil. 
Comes with intelligent magnetic molecules that protect the engine 24×7.
Makes the critical engine components four-time smoother.
This product is tried and tested by experts. It comes with API SN, ILSAC, GF-5, and GM dexos1 certificate.
Cons:
The magnetic molecules may not work on some engines with parts made with aluminum.
6. Castrol 03094 GTX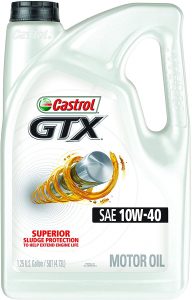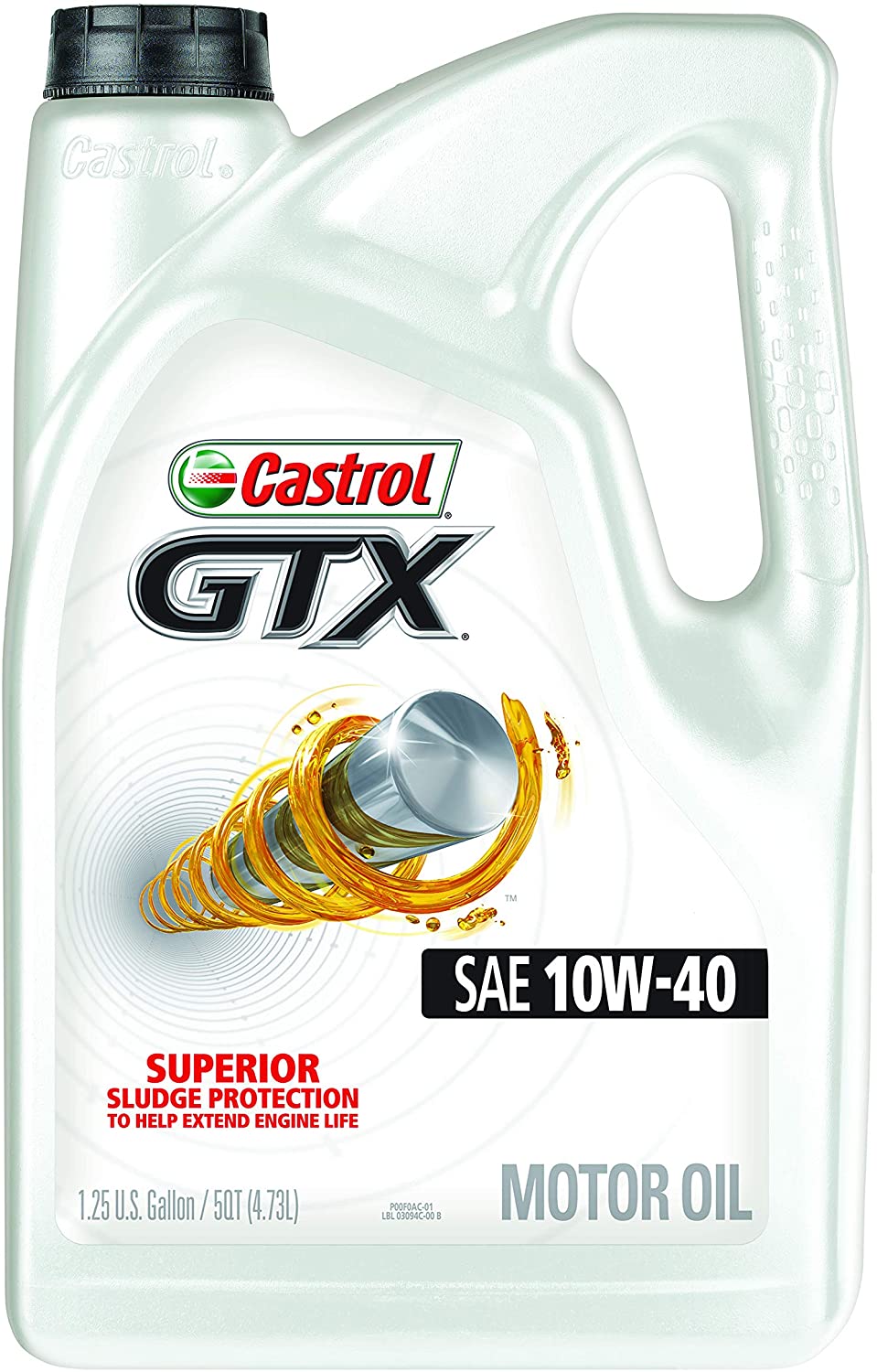 This best conventional motor oil from Castrol has been in the market for more than fifty years. The 5 Quart, 10W-40 can of pure motor oil, comes at a reasonable rate. A single quart of this product will not cost you more than three dollars (which is quite affordable as per industry standards). Along with the product, you will also receive an owner's manual — which comes handy before an oil change sitting.
Castrol claims that by conducting regular oil changes with this product, you can help your car stay on the road twenty times longer than the average vehicle. It is expected for the crucial parts of the engine like the camshaft to undergo heavy wear and tear in an old car. These parts are generally lubricated with a splash–and not pressure like in a newer engine. The Castrol 03094 GTX oil is made taking this fact into account.
Castrol 03094 GTX is Suitable For –
This conventional motor oil goes well with both newer and older vehicles. More modern vehicles may not need as many oil changes, but it is good to do it once in 4-5 months. On the other hand, Castrol 03094 GTX can give a new lease of life to vehicles over 200,000 miles. 
I also recommend this product to those who use an economical car like the Honda Accord or Chevrolet Spark. Why? Inexpensive cars are more likely to throw the dreaded P303 error–which is caused due to ignition problems. There is a litany of other issues that can occur when using a cheap car. An oil change with Castrol 03094 GTX can solve or deter such matters. 
Pros:
It comes with an owner's manual. 
The viscosity of this oil remains consistent amid adverse weather conditions.
Tries and tested– reputed brand.
ILSAC GF-5 and API SN certification.
Cons:
The product has a strong smell. 
After pouring out all the oil from the container, you might find some residue left at the bottom.
Is Conventional Motor Oil Bad for the engine?
I won't go so far as to say that conventional oil is bad for the engine. Conventional oil indeed contains a lot of impurities and contaminants. Still, when processed taking the US industry standards into account, it is as good as a synthetic oil (or should I say, as safer to use as a synthetic oil). 
When buying conventional oil for your vehicle, you should look for oil certifications and other additives. Most conventional oils sold in the market are not 100 percent crude– 20-25 percent of the ingredients are synthetic (which are referred to as additives). You should also keep in mind that at one point in time, all motor oils were conventional. By the way, Castrol was the first company to make use of additives. 
To answer your question, I would say, adding conventional oil to a vehicle over 75,000 miles is not as bad as doing the same with a brand new or a newer vehicle. Since conventional oils are a bit cheaper than their counterparts, it would not make sense to purchase them for an old beat-up car. You will be paying more money per mile. 
Is Conventional Oil Good Enough?
As I said in the previous section, at one point in time, all motor oils were conventional. Conventional oils are good enough if they come with the mandatory oil certifications. If you are concerned about damaging your vehicle by adding a conventional oil to the engine, make sure to look for labels (on the product package) like GF-5, Dexos 1 Gen 2, API service category SN Plus, and SN Resource Conserving. 
Conventional oils indeed contain natural ingredients derived from the earth; it still has enough properties to help the engine produce better fuel economy, last longer, and deliver a higher performance (in terms of mileage). Hence, conventional oils are good enough for vehicles that do not generally need extra maintenance and care. You can make your old truck or a car stay on the road much longer.
Is Synthetic Motor Oil Better Than Conventional Motor Oil?
Simply stated, yes, synthetic motor oil is better than conventional motor oil. Unlike a conventional oil– which is a moderately refined crude oil derived from the earth– experts formulate synthetic oil. 
Primarily, the bulk of synthetic oil still consists of crude oil, but there are more additives in it. The additives improve the overall quality of the oil and also make it more suitable for the newest engines. 
Furthermore, some people have the opinion that synthetic oil is only suited for a high-mileage or high-performance engine– and those using an economical car should go for conventional oil. This is furthest from the truth. 
Synthetic oil is costlier than regular oil. Hence, if you calculate the amount, you will pay per mile. If your economical car is relatively newer and you wish to get the best out of it, by all means, go for synthetic oil. 
What Is Conventional Motor Oil?
Conventional motor oil is derived from crude oil. It is not laced with chemical compounds. Unlike synthetic oils, conventional oils are cheaper to manufacture as they do not need to go through rigorous processing. Also, back in the day, engines were made for conventional oils. The parts used in the engine were compatible with mineral oil. 
Conclusion
It can be quite disheartening to see the performance of an expensive car decline as a result of supplementing cheap or incorrect motor oil to it. On the other hand, some wish to preserve the vintage vehicles they have been driving around since they were a child. The right conventional motor oil will help you achieve enhanced-performance and also prolong the life of your car. 
From the above list, I would pick AmazonBasics Conventional Motor oil over all other products. Not only this product has excellent reviews, but it is produced, taking into account the US industry standards for automotive lubricants. It is API SN, and ILSAC GF-5 approved.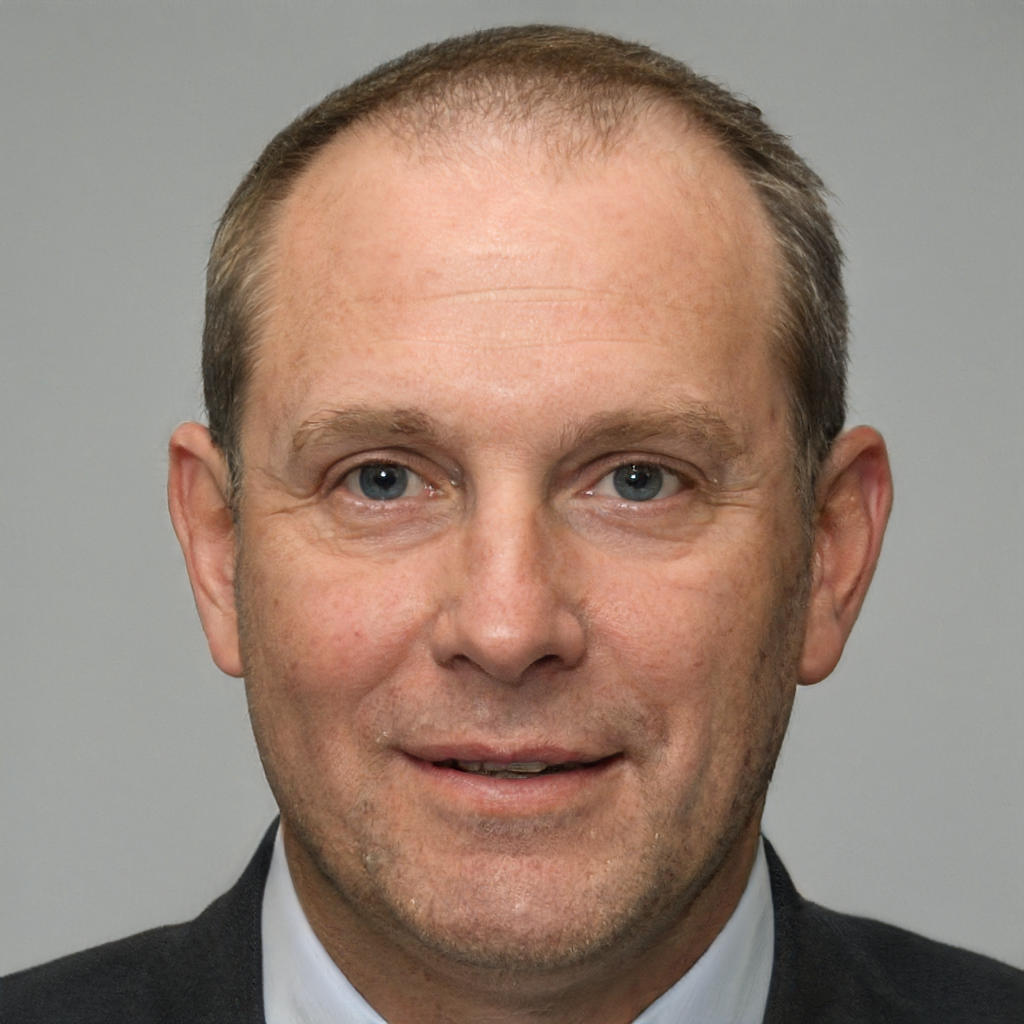 Howdy! I'm John Robinson from Levittown, New York. I am a mechanical engineer for 15 years and already had an established car repair company. I developed a personal relationship with cars since I was a kid. I always love the sounds and smell emitted by a car or truck and even at construction machinery. Since then I have been married but my love for cars only grew.