Disclaimer: As an Amazon Associate I earn from qualifying purchases. Without Any Extra Cost to You!
Last Updated on August 26, 2022 by John Robinson
Most people incorrectly assume that a modern car engine is less likely to incur wear and tear caused due to impurities and contaminants found in the motor oil. This is furthest from the truth. Even if you use the best quality synthetic oil, there is always a likelihood of finding tiny particles in the oil that, if not filtered out, may damage the engine. This post is intended to help you find the best synthetic oil filter.
Best Oil Filters for Synthetic Oil
1. Bosch 3330 Premium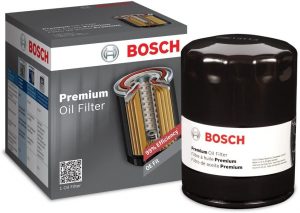 For more than a century, Bosch has been one of the largest and the best manufacturers of automotive lubricants and related parts. It is headquartered in Stuttgart, Germany. The Bosch 3330 Premium filter is known for its versatility. This oil filter is OE Fit. Meaning, it will fit and stay on the vehicle the same way the original filter did. 
Most car owners look for a new filter after a few years of use. Unfortunately, filters manufactured by foreign companies like Toyo Roki are either not available in the United States or not made anymore. This is where the Bosch 3330 Premium synthetic oil filter comes into the picture. 
Furthermore, this premium oil filter protects your engine by keeping out harmful particles found in synthetic oil. Synthetic oil contains a lot of additives, some of which are biggest than recommended by a car manufacturer. This filter is designed to fit your engine's specific application. It meets all OEM requirements. It can hold up to 14 grams of dirt from entering the engine. 
Bosch 3330 Premium is Suitable For – 
This product from Bosch works best for those who wish to prolong the life of their vehicles by preventing harmful solid particles from entering the engine. As I mentioned earlier, this product is OE Fit. You can use it as a replacement oil filter.  
Pros:
It offers 99 percent efficiency. 
Can hold up to 14 grams of dirt particles. 
Compatible with older vehicles (domestic, Asian, or European-made vehicles). 
Equipped with a silicone anti-drain-back valve. It makes sure the oil doesn't spill out when the tank is full.  
Cons:
Weighs more than other oil filters.
2. PurolatorBOSS PBL14612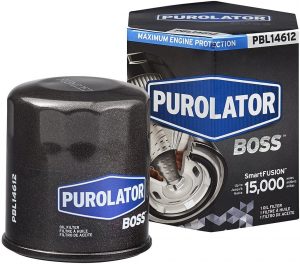 PurolatorBOSS PBL14612 is a premium quality oil filter for those who do not like changing the filter very often. You can go up to 15,000 miles with the same filter.
The product goes well with any synthetic or extended performance engine oil. No matter the driving location or the weather conditions, this oil filter will continue delivering excellent results.
I understand that this filter is a bit expensive than other average ones. The BOSS model of Purolator is an extended life filter. Meaning, it can last longer, hold twice as many contaminants, withstand extreme temperatures, and is suitable for the hectic city driving. Furthermore, this product also offers the second-highest efficiency in the industry (99 percent). 
PurolatorBOSS PBL14612 is Suitable For – 
Do you feel like you have to change the oil now and then? Does your commute involve driving more than 100 miles each day? If the answer to any of the above questions is yes, you might want to consider switching to PurolatorBOSS PBL14612 extended life oil filter at the next oil change.
Pros:
Sturdy and robust housing.
Only metal end caps used. You won't find any disintegrable arts like paper or cardboard.
Comes with a precision-engineered anti drain back valve.
No need to change the filter until 15,000 miles.
Cons:
Purolator has changed the outer texture of the product from powdered to smooth. This has made wiping the oil– stuck on it– very cumbersome.
3. Mann-Filter HU 816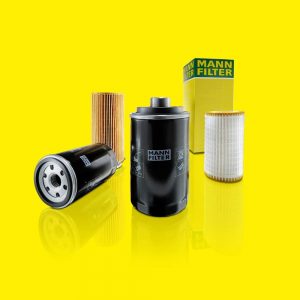 Mann Filter is a Great Lakes-based filtration solutions firm. Recently, this company has collaborated with Hummel. Hence you might receive the product package labeled "Mann Hummel." Although these filters are  Mexico-made, the quality is comparable with oil filters made by BMW (German-made) or Mahle (Austria-made). 
This product claims to remove dirt particles and combustion residues present in the synthetic oil. Furthermore, the components and parts used in the making of this oil filter are heavy-duty and robust. 
To prevent the synthetic oil from seeping out, the long-life filter media is equipped with seal rings. The return line barrier membrane is made with high-quality silicone. And The bypass valves are PTFE-coated.
Mann-Filter HU 816 is Suitable For – 
This product works best for those seeking an affordable yet high-quality oil filter for their vehicle. This synthetic oil filter can be a perfect replacement for the OEM filter that came with the new car. Plus, this product is meta-free. It is not susceptible to rust or corrosion during wet weather conditions. 
Pros:
High dirt holding capacity. 
The filter media is made with a long-lasting material.
PTFE-coated bypass valves. 
Comes with a safety valve.
Easy to change. 
Cons:
Manufactured outside of the United States.
4. Motorcraft FL-820S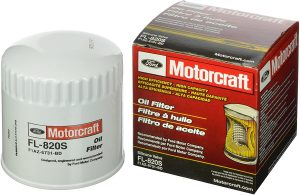 Motorcraft is an American automotive lubricant manufacturer. Backed by the industry giant Ford, this is a reliable and trusted company. The synthetic oil filter from Motorcraft is commonly found in police cars. It makes sure that harmful particles like carbon, sand, dust, and bits of metal do not pass through the combustion chamber. 
Cops cannot take a risk with dry starts. This filter comes with a silicone anti-drain back valve that prevents drys starts after an oil change. You might not be a cop, but your work involves you to always be on time (like every other occupation does), it makes sense to get the best oil filter possible. Plus, after every 7,500-10,000 miles, you can simply change the filter. 
Motorcraft FL-820S is Suitable For – 
This oil filter is the best original equipment replacement filter for Ford, Lincoln, and Mercury vehicles. Instead of using a no-name cheap filter for your Ford vehicle, you can get this one at an affordable price. Ford does not recommend using a filter that is not manufactured under the OEM standards. 
Pros:
Excellent back drain valve. Prevents oil from recirculating back into the tank.
Some of the parts are PTFE-coated—no chance of rust or corrosion. 
Precise fit. 
Best oil filter for Ford vehicles. 
Cons:
Only compatible with Ford vehicles.
Only suitable for Ford vehicles with no internal oil cooling system.
5. Motorcraft FL-500S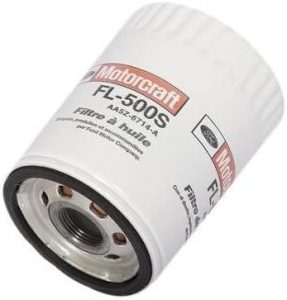 Is your Ford vehicle equipped with an oil cooler? The model (Motorcraft FL-820S) we discussed earlier comes with a larger filter medium. To be specific, the surface area of the filter medium in Motorcraft FL-820S is larger than that in the Motorcraft FL-500S. It is always good to go with a synthetic oil filter with higher specifications, but only if your vehicle engine has an oil cooler. 
An oil cooler makes sure that the filter operates at its optimal capacity even in adverse weather conditions. On the other hand, you can still protect your engine from abrasives, such as carbon, sand, dust, and bits of metal, by filtering them out with the Motorcraft FL-500S. 
This filter has a sufficiently large filter media, a fluted case end to make removal easy, and a perforated steel center tube that prevents the tube from collapsing under pressure. In addition, just like the FL-820S model, this one too comes with a precision-engineered anti-drain back valve. 
Motorcraft FL-500S is Suitable For – 
Like I said earlier, this product is perfect for a Ford vehicle with no in-build oil cooling facility. It also makes sense to get the best oil filter possible for your vehicle when you are planning to park it in the garage most of the time (going to use it occasionally). The best oil filters like Motorcraft FL-500S prevent dry starts, which in turn prevent engine wear.
Pros:
Works best with Ford vehicles with or without an internal oil cooling system.
Excellent built quality.
Comes with silicone anti-drain back valves (better than the ones made with nitrile). 
High dirt holding capacity.
Cons:
A bit pricier than other similar products.
6. Mobil 1 M1-110 Extended Performance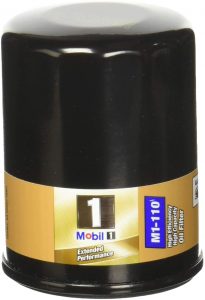 M1-110 extended performance oil filter from Mobile 1 is a bit pricier than the other similar products. When you look at the specification of this product, you know why. It is one of the rare synthetic oil filters with a 99.6 percentage Multi-Pass Efficiency Rating. In addition to that, the filter media is made with long-lasting, advanced synthetic fiber blend. 
You will also be surprised to learn that this Mobil 1 oil filter is cable of holding double the amount (28 grams) of dirt particles than other filters. For high-end vehicles, it makes total sense to get the best oil filter possible. 
The manufacturer recommends changing this filter every 7000 miles. Well, there are several people out there who have dissected this product after usage. For instance, in this video, a car mechanic has opened the filter after using it for eight months. The Mobil 1 oil filter had 7,823 miles on it. The filter was also able to collect some magnetic particles found in the synthetic oil.
Mobil 1 M1-110 Extended Performance is Suitable For – 
Did you know that a cheap oil filter also comes with a low-quality filter media? The bits and pieces of the media can get into the engine leading to wear. If you own a high-end vehicle or simply wish to prolong the life of your current vehicle, at the time of your next oil change, you should consider switching to this extended performance oil filter. 
Pros:
Best oil filter in the market. 
Compatible with almost all synthetic oil engines. 
Extra high dirt holding capacity. 
99.6 percentage Multi-Pass Efficiency Rating.
Cons:
A bit expensive than an average oil filter.
How Often Do You Change Synthetic Oil Filter?
The exact interval, after which you should change a synthetic oil filter depends on its manufacturer. Every branded filter comes with a small booklet or an instructional manual. If you are unable to find the needed information in the brochure, make use of the free online care forums available for the US users. Meguiar's Online, Autopia, and AutoGeekOnline are one of the best car care forums. 
Furthermore, as a general rule of thumb, auto mechanics recommend changing the filter and the motor oil every 3000 miles. Do not make the mistake of changing the filter without changing oil. The leftover oil must already be filtered and hence won't need additional filtering. Most people change the filter during every oil change setting.   
On the other hand, not changing the filter during an oil change can lead to contamination of the new oil. Think of it this way, you add 5 quarts of new oil to a quart of leftover oil (assuming the remaining oil is contaminant-free), but you try to save a few bucks by not changing the filter. The old filter must have accumulated a ton of dirt and contaminants in the filter media. 
The old filter may not have the capacity to hand a new oil change. This way, the new oil is more likely to remain unfiltered. Unfiltered synthetic oil can damage your engine. Hence, it is always good to go by the rule of "changing the filter with every oil change."
Conclusion
Change the filter during every oil change may seem like a small investment, but I can assure you that it will deliver tremendous benefits in the long run. I think you will find the performance of the vehicle declining as you reach the 3000 miles mark, after every oil and filter change. 
Extended performance oil filters like the Mobil 1 M1-110 has a large capacity to store contaminants. It also offers the highest efficiency rating in the industry. With such a filter installed in the engine, you can easily go for 7,000-10,000 miles without needing a "filter change." Mobil 1 M1-110 is, without a doubt, the best product in the above list.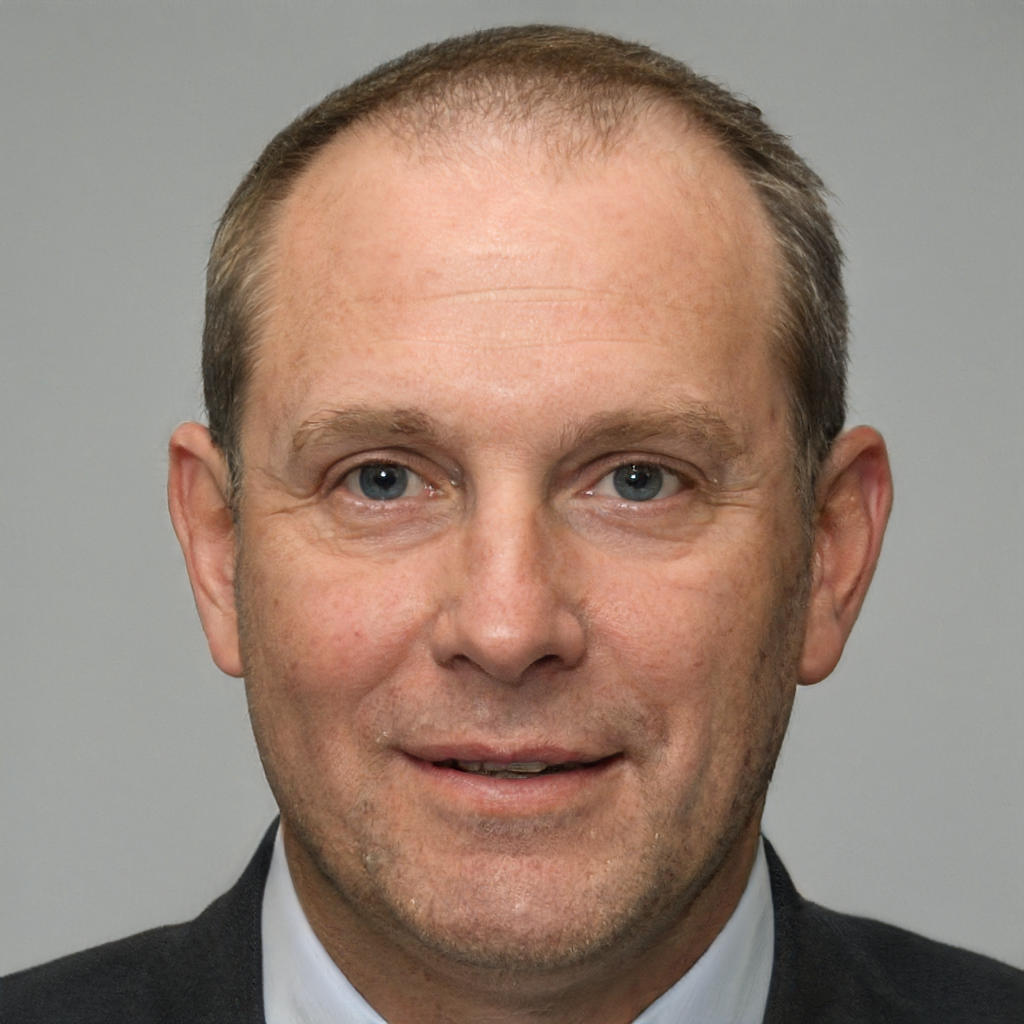 Howdy! I'm John Robinson from Levittown, New York. I am a mechanical engineer for 15 years and already had an established car repair company. I developed a personal relationship with cars since I was a kid. I always love the sounds and smell emitted by a car or truck and even at construction machinery. Since then I have been married but my love for cars only grew.