Last Updated on August 26, 2022 by John Robinson
Are you curious about the performance of Michelin Defender LTX M/S? This model probably caught your attention because 1) it bears the Michelin brand and 2) it's from the manufacturer's relatively popular Defender family of tires.
After conducting hours of research and consulting experts, we are pleased to report that this product is a champ in various areas. To name a few, it has a tread life that can serve you all-season. It also prioritizes comfort and safety. Plus, its price is quite reasonable considering the time and effort it saves you after replacing your current set of tires with this one.
In this review, we'll dig deeper into the details, helping you gear up with the right fit for your vehicle. Do not forget to make a compatibility check, as this can make or break your decision to buy this premier tire model.
Who Makes Michelin Defender LTX M/S?
The Defender series is a two-product lineup from French premium tire manufacturer Michelin. Currently, the company ranks as the second-largest tire maker in the world, next only to Bridgestone. It is tailed by Goodyear and Continental in global sales.
Michelin has a rich history in the industry, spanning at least 130 years. From a farm-equipment-and-rubber-ball factory in Clermont-Ferrand, it has grown to own testing centers in the Americas, Europe, and Asia, as well as a plant in Greenville, South Carolina. It is known for its offerings of tires, other rubber products, and synthetic rubber.
Are Michelin Defender LTX Tires Good in Snow?
Yes, the LTX M S tire offers excellent light snow traction. Its wet braking is quite good as well. You can even push it a little harder with its M/S rating, which means it can work on mud and snow. It is better than the T+H model, which does not work well in deep snow and harsh winter conditions. 
This high-performance all-season tire snow tire is just what you expect from the Defender line.
Given the performance of this product, you may be wondering about how it fares against some of the Premier series models. Check out the answer in the section called, "Which Tire Is Better Michelin Defender or Premier?"
What Does LTX Mean on Tires?
LT stands for "light truck," which are the target vehicles of the LTX M S tire. Since mid-2015, Michelin has stopped selling its top Defender LT product. It has been replaced by the LTX from that time forward.
With the arrival of the Defender LTX, drivers can take advantage of the strengths of the old LT version combined with the tread depth and pattern, Evertread compounding, and long-lasting tread wear of the newer model. In other words, it's an upgrade that takes only the best parts of the two tires and delivers them to you in one package.
The LTX, however, is not an original equipment model in North America.
What Ply Is Michelin Defender LTX M S?
When looking for a tire to outfit your car with, you might also want to check out its ply rating. This feature refers to the layers of rubber placed on the tyre. So, a 4-ply tire means it has four layers of rubber while an 8-ply tire has eight layers. A high number means a tougher and stiffer tire.
Ply ratings depend on tire code-related requirements, such as sizes and other relevant ratings (e.g. speed rating and tire size). So this factor can differ among the product's variants. An LT275/65R18 Michelin – Defender LTX M/S Tire has a 10-ply rating. Meanwhile, a 265/60R18 one has 4-ply and LT 265/75R16 has 10-ply ratings, respectively.
Which Tire Is Better Michelin Defender or Premier?
The Premier is another family of Michelin tires, composed of the Premier A/S and the Premier LTX. The Premier A/S offers the same Comfort Control Technology as the Defender T+H, ensuring smooth and quiet driving. The Premier LTX is likewise similar to Defender T+H in its reliable hydroplaning resistance on wet pavements. 
These three models also have a maximum price of $300.
The Michelin LTX M/S shares the shorter stopping distance feature with the Premier A/S. But the latter has an EverGrip technology that offers extra grip on dry or wet roads. Yet, the latter may not be able to compare with the high mileage of the former. Indeed, tread wear is an exceptional Defender value even among all-season tires.
Why Choose Michelin Defender LTX M/S
Excellent traction and tread wear combine with optimal comfort and safety mark the Defender tire family. One of the two products in this series is the Defender LTX M/S. The other one is the Defender T+H, which we will look into later.
If you're after a year-round tire that can take on wet and winter conditions without fuss, this model may be the one for you. And if there's one section you should not skip, it's this part where we list the positive and negative qualities you may find in the Defender LTX M/S.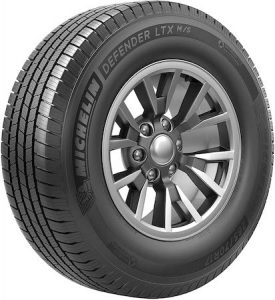 Tire Type
The LTX M/S is classified as an all-season performance tire. All-season editions are the sum of the strengths of summer and winter tires. They can deliver dependable wet and dry traction, a longer tread life, and a smoother ride in most contexts. 
This model fits the bill with its tread design that can effectively discharge water in rainy or snowy conditions. Further, its proprietary Evertread compound lets it last in wet weather by 10%. The M/S rating refers to its capability of taking you through mud or snow without major issues.
At the same time, the LTX M/S is a high-performance tire. Meaning, its grip yields better traction and shorter stopping distances in snow or an emergency. Cue the quick halting rubber sound during car chases in movies. While you don't have to face real danger to need fast acceleration and braking responses, this one can help you stay safe while driving on slippery surfaces.
Performance
The handling performance of this Defender model is hinted at above. It can accelerate and brake quickly, thanks to its high-performance. It is also pretty stable when you are steering the wheels, allowing for a smooth ride. A tyre that is not responsive enough can cause the vehicle to go off-course. Good thing the LTX M/S provides adequate hold on the road.
Comfort and noise can also be classified under performance. For these two qualities, this product scores high and average, respectively. Comfort is derived from the smooth driving effect. However, road noise is due to speeding up or the tread pattern hitting an uneven or grooved pavement. This one is quite stiff, so it is not as quiet as you wish it to be.
Mileage
The LTX M/S features MaxTouch Construction, which can help boost your vehicle's fuel economy. That can affect how far your car can go before you gas up. In a way, that relates to mileage.
However, when we talk about mileage, we are referring to the warranty miles of the tire. This is the maximum distance it can travel while remaining in good shape – before you need to replace it. This Michelin has a 70,000-mile tread warranty. This long-lasting tread wear can sustain you throughout many seasons. It aligns with the expectations for an all-season performance tire.
Compatibility
If you have a crossover, a sport utility vehicle, or a full-size pickup, you can start your search with this one. To be sure, consult your current tire's sidewall and see if it bears the T, H, or LT sign. These letters mean that the tire is compatible with the following:
L – trailer truck with a speed limit of 75 mph
T – passenger sedan, coupe, SUV, and CUV with a speed limit of 130 mph
L/T – passenger and light truck with a speed limit of 118 mph
The M/S rating means it can work in light snow but not in extreme winter conditions.
Pricing
Knowing the cost of your target tyre brand and model can prevent you from making impulsive decisions. Having a budget can help you filter only the best value options for your money. That said, the price of an LTX M/S can range between $144.99 and $360.99.
The figures are reasonable, considering the history and reputation of Michelin. Your total expenses can go as high as ~$600 to ~$1450 for a full set of tires. It's a considerable investment, so make sure you are purchasing the right fit for your vehicle. There are tire compatibility applications on Michelin's website and merchants' online stores.
[joomdev-wpc-pros-cons disable_title="yes" wpc_style="wppc-view3″ title_tag="H3″ title="Title Here" pros_title="Pros" cons_title="Cons" button_text="Get it now" disable_button="yes" button_link="" button_link_target="_SELF" button_rel_attr="dofollow" verdict_text=""][joomdev-wpc-pros]
Its directional tread design allows for easy water evacuation in wet weather driving. 
It features a proprietary compound that lets your tire stay 10% longer on wet pavements.
Its MaxTouch Construction can boost fuel economy.
It is pretty durable, with a tread life that can last you up to 70,000 miles.
Its prices are reasonable and still considered mid-range.
[/joomdev-wpc-pros][joomdev-wpc-cons]
Its tread can be stiff, causing you to feel discomfort when driving over holes and bumps.
It has a quick warm-up-and-cool-down, making it prone to flats and blowouts.
Its rubber can also become less dense fast because of the cycle.
It tends to get a little noisy.
[/joomdev-wpc-cons][/joomdev-wpc-pros-cons]
[su_button url="https://www.amazon.com/dp/B017OB63XK?tag=buckeyeb-20″ target="blank" size="9″ center="yes" icon="icon: shopping-cart" rel="nofollow"]View On Amazon[/su_button]
Other Defender Model
While you're considering the LTX M/S, you might want to check out the other model in the Defender lineup. We're talking about the Defender T+H, which boasts of mileage, comfort, safety, and quiet performance. Its highlight is its 80,000 mileage warranty, which is hard to match, even by all-season tires. Users report that it can reach close to its expected run. 
With this excellent mileage comes safety as you take on a long drive, whether you're alone or with friends or family. This tire is designed to endure cross-country trips. Its MaxTouch Construction is there to ensure that pressure is distributed evenly, allowing the tread to achieve its maximum capacity. 
You can also rely on this model's grip on any surface, giving you that all-season confidence on the road. It sports the IntelliSipe technology, which takes charge of that functionality. This tire also facilitates hydroplaning through its special rain grooves to make wet weather navigation safer. Complementing these features is the Evertread compound, which provides durability. 
Its excellent performance continues with the Comfort Control Technology. This tech lets you manage tire noise as you log miles upon miles. Just be careful because vibrations may occur if you over-inflate the tire. We already mentioned the industry-leading 80,000 miles limited warranty that backs up this product. This is most suitable for H rating with sizes ranging from 14 to 18 inches.
If the components are not enough to convince you, perhaps the price might. It retails at $104.99 to $200.99 apiece, so it's less expensive than the LTX M/S.
Pros:
It has an exceptional tread wear and unparalleled warranty miles.
It also features the MaxTouch Construction for even weight distribution.
Its grip gives you confidence to drive on most surfaces.
It showcases special rain grooves to facilitate hydroplaning.
It is more affordable than LTX M/S.
Cons:
It may generate vibrations when over-inflated.
Its wet stopping is average.
Its responsiveness can be better.
Conclusion
Finally, you've come to the end of our Michelin Defender Review When shopping for a tire that can get you through any season, Michelin's Defender series stands out among the rest. Its LTX M/S model reflects its excellence and superiority in different areas. While there are some downsides to owning a full set of this tire, these are outweighed by the product's upsides.
The LTX M/S is compatible with a variety of vehicles, from light pickups, crossovers, and SUVs to luxury sedans and coupes. It has a dependable all-season traction and tread wear. The MS rating means you can take it through mud and snow without major issues. And its price is reasonable enough for a premier choice, really.
The Defender series also includes T+H, which is good in light snow. This one is the slightly cheaper model. Yet, you may want to stick with the former if you want good traction on wet, dry, and winter roads. The LTX M/S is also compatible with more cars and comes in a wider array of sizes.
All things considered, do you think this is the right model for your vehicle? Or have you already bought and tried this one? Leave your thoughts in the comments box to let us know if it works for you.
Visit us regularly here at buckeyebullet.com for up-to-date information on car parts, repair and maintenance, and many more.