Last Updated on September 23, 2022 by John Robinson
Selling a classic car is an exciting milestone, especially if you've been driving it for years and have a lot of memories tied with the vehicle. But before you can sell your car and make some money from it, you need to go through a few steps to get it ready. 
If you're trying to figure out how to prepare a classic car for sale, these four easy tips will help you get it ready for the market.
The Importance of a Thorough Cleaning 
When you're selling a classic car, cleaning is of utmost importance. You don't want potential buyers to see stains on the interior or streaks on the exterior. This can give them pause about purchasing the vehicle and may even cause them to wonder what else may be wrong with it under the surface that they can't see. 
Even if your car is in great shape mechanically and hasn't had any problems, dirt and stains give the impression that it's not well-maintained. Potential buyers may think that your car will need constant upkeep when in fact it's just dirty. If they are inexperienced in evaluating the condition of a car or engine, which is common, the car's cleanliness might indirectly affect their overall judgment of your car's health; making them think they may need to service it often in the future.
A thorough cleaning also allows potential buyers to see your vehicle in its best shape, which may help them appreciate its value a lot more. If they can picture themselves driving a clean classic car, they may be more likely to make an offer.
Tips for Getting Your Classic Car Ready to Sell 
Are you ready to sell your classic car, but want to make sure your beauty is in tip-top shape for your potential buyers? Follow these simple steps to get it cleaned up, polished, and looking its best.
1. Wash and Wax the Exterior  
To start, give your car a good wash and wax. If you're not sure how to do this, there are plenty of helpful guides and videos online. You can also take it to a professional car wash and ask them to do a thorough job on the exterior. Don't forget to pay attention to the wheels and tires when you're washing the car. They should be clean and free of any dirt or grime.
A good waxing will not only make the paint pop, but it'll also protect it from the elements so that when it's time to show it off to a prospective buyer, there won't be any unsightly blemishes or scratches. It's vital not to use harsh chemicals on this part of your vehicle because they could ruin any graphics or decals that may have been added over time by previous owners.
2. Vacuum and Shampoo the Interior
If you're going through all of this trouble already then why not take extra care with every detail? Vacuuming alone might remove some dirt but there are stains as well as hair and other debris that could get stuck in the crevices between seats or between carpet fibers. Shampooing will ensure that everything is clean from top to bottom without leaving anything behind like a vacuum would.
When you shampoo, be sure to use a product that's made specifically for car interiors. If you've had any car detailing done in the past, then you likely already have a product that will work just fine. If not, most auto stores will carry something perfect for the job and won't damage the fabric or upholstery.
This will prevent any damage that could be caused by using a household cleaner. Once you're finished shampooing, be sure to let the interior dry completely before vacuuming again to avoid any mold or mildew growth. A good rule of thumb is to wait at least 24 hours before vacuuming.
3. Clean the Engine Compartment 
Make sure this area looks spotless too! Take plenty of pictures for potential buyers who might want to confirm that their new classic car is in excellent condition on the inside as well as the outside. If you're not sure about how to properly and safely clean your engine, there are plenty of guides available online.
Cleaning the engine is important for two reasons. First, it'll make your car look better overall. Second, if potential buyers can see that you've taken care of the engine, they'll know that you're meticulous about maintenance and upkeep, which is always a plus.
4. Take Care of the Wheels and Tires 
It's crucial to clean the wheels and tires when you're washing the car. But that's not all you need to do. You should also inspect them for any damage or wear and tear. If there are any cracks, dents, or chips in the wheels, now is the time to get them fixed. The same goes for the tires. If they're balding or have any other issues, it's best to replace them before you put your car on the market.
This will show potential buyers that you're serious about selling a classic car in excellent condition and that you're not trying to hide any flaws. Over time, wheels and tires can become expensive to replace, so take care of them while you still can. The best way to do this is to take them to a professional who can properly assess their condition and make recommendations for repair or replacement.
Get a Professional Opinion 
Once you've completed all of these steps, it's always a good idea to get a professional opinion. They can take a look at your classic car and let you know if there's anything else you need to do to get it ready for sale. They can also help you determine a fair asking price based on the condition of the car and any recent repairs or modifications that have been made.
It's all about creating the right impression. A pristine vehicle will make buyers feel like they're looking at something valuable and well cared for, giving them confidence that this car has been in good hands all along. Plus, if there are any discrepancies between what you told them about the car during negotiations and what they see when they look at it up close and personal, they'll know not to trust you on other things as well, which could sour the deal.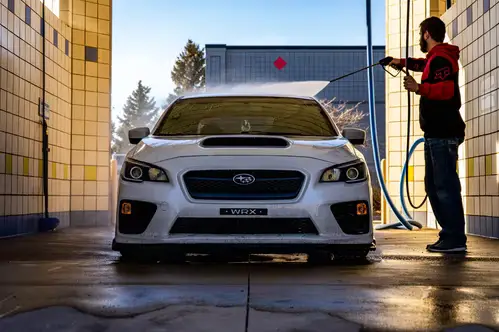 All in all, taking the time to clean and prep your classic car for sale is well worth the effort. Start with washing and shampooing the exterior and interior, then move on to the engine compartment, wheels, and tires. Once you're confident that everything is in tip-top shape, get a professional opinion to make sure you're not missing anything. By following these simple tips, you'll be one step closer to getting the best possible price for your classic car.