Last Updated on August 25, 2022 by John Robinson
Picking the right oil for a BMW vehicle can seem like a nightmare., Not all brand-name oils are approved or officially recommended by BMW. Hence, you have to rely on casual advice from friends, co-workers, auto mechanics, etc. Well, this could work for an average or low-priced vehicle but not with a BMW. This post will guide you through some of the best oils for BMW vehicles. 
Best Motor Oils for BMW
1. Castrol EDGE 5W-30 Advanced Full Synthetic Motor Oil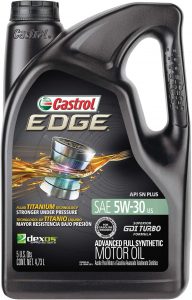 British brand Castrol remains a go-to choice for customers buying automotive and industrial lubricants the world over. With the Castrol EDGE 5W-30 Advanced Full Synthetic Motor Oil, your BMW engine benefits from the premium synthetic oil treatment. Boosting its formulation is the titanium fluid strength, a tried-and-tested technology that has been around for seven years.
This component promotes wear protection through a protective film that delivers many advantages. It is less prone to viscosity breakdown, performing better than other top full synthetic and conventional oils. It also reduces friction by 15% and metal-to-metal contact by 45% regardless of your speed. 
Imagine that pressure under the hood can hit up to 10 tons per square centimeter. With the titanium tech physically changing the oil, the latter can allow your engine to withstand extreme pressure. Compared to the other oils from the same brand that do not feature titanium, this oil has film strength that can last more than 140 hours longer. 
Further, it reduces deposits to ensure that engine response remains optimal. It can counter gasket hardening to help you avoid leaks. Consistent viscosity makes it reliable, no matter the season, temperature, or weather. So whether it's summer or winter, it is a dependable fuel for your BMW.
This motor oil caters to both supercharged cars or high-performance cars, as well as aspirated diesel cars and light vans. Still, you will need more than 5 quarts to improve mileage. Buying more than one bottle is nonetheless cost-effective, with the total price for a pack of three amounting only to a little less than $100. It's not bad for a premium oil that serves luxury cars.
To cap everything off, this oil is preferred by top manufacturers in the industry. It is available in the 5W-30 configuration.
Castrol EDGE 5W-30 Advanced Full Synthetic Motor Oil Is Suitable For:
High-quality vehicles like BMW can benefit from this premium motor oil. It specifically caters to both supercharged/turbocharged cars and naturally aspirated diesel cars. It promotes fuel efficiency and excellent viscosity for long-lasting, all-season performance. Score a 3-pack set for a reasonable price, something people who like to save can appreciate.
Pros:
It sports a titanium technology that promotes wear protection.
It can handle extreme pressure.
Its excellent viscosity encourages quick cold-starts.
It works for both supercharged and aspirated diesel engine cars.
It can extend engine life through filthy deposits and enhanced metal-to-metal impact.
It comes at a reasonable price.
Cons:
One 5-quart bottle may not be enough to improve mileage.
It is not compatible with VW TD.
[su_button url="https://www.amazon.com/dp/B00ICSWGJ0?tag=buckeyeb-20″ target="blank" size="7″ center="yes" icon="icon: shopping-cart" rel="nofollow"]View On Amazon[/su_button]
2. Mobil 1 120760 Synthetic Motor Oil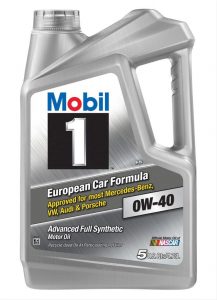 Mobil 1 0W-40 European Car Formula is a specially-designed synthetic oil for BMW engines in North America. Vehicles in North America have standards way above compared to the rest of the world. Hence, the team of engineers at Mobile 1 has put in all their creativity, thoughts, and productivity to come up with a product that helps the engine last longer, perform better and offer enhanced fuel economy.  
The viscosity range (0W40) of this motor oil is quite wide, hence you can expect your car to start and run smoothly even in the harshest of weather conditions. Also, it has exceptional cleaning power. BMW engines like S65 V8, M10, S54B32HP DOHC, S70/3 V12, etc are considered to be high maintenance. Mobil 1 120760 Synthetic Motor Oil has an exceptional cleaning ability. 
Furthermore, modern BMW engines are said to be bulletproof. Meaning, no matter how fast you drive, how often you drive, or how much stress the engine incurs, it continues to run smoothly for years. Although, you shouldn't be callous when it comes to motor oil. Mobil 1 120760 Synthetic Motor Oil will protect the BMW engine parts from wear. 
You would also be glad to know that this synthetic motor oil meets and exceeds the requirement of API SJ, API SL, API SM, ACEA A3/B3, ACEA A3/B4, and Ford WSS-M2C937-A. Further, it is approved by vehicle manufacturers such as Porsche and Nissan. Also, it is a factory recommended oil for BMW vehicles. There is a reason the Mobil 1 120760 is chosen as factory fill for the world's finest vehicles. 
Mobil 1 120760 Synthetic Motor Oil is liquid-engineered to keep the engine lubricated even when it is turned off. Proper lubrication is a must for a better fuel economy. Whether your vehicle is new or old, the engine parts are always subjected to heavy pressure and stress. This motor oil comes with enhanced frictional properties. 
Mobil 1 120760 Synthetic Motor Oil Is Suitable For:
Mobil 1 120760 Synthetic Motor Oil is the number one choice of race car drivers. As you already know, a race car engine is subjected to heavy pressure as it is driven at a high-speed without stoppages. This leads to engine overheating. The oil temperature can reach up to 180 degree celsius. This product is capable of withstanding extremely high temperatures. It is. best suited for high-performance engines.
Pros: 
This product exceeds the latest OEM and industry approvals.
Recommended by experts, for BMW vehicles.
Reduces friction, hence improves fuel economy.
Eliminates cold starts. 
Has exceptional cleaning capabilities.
Cons: 
It can be difficult to find this product in places other than Amazon and Walmart online stores. 
The container needs some improvement. The cap can be difficult to open the first time.
[su_button url="https://www.amazon.com/dp/B00HG76A9A?tag=buckeyeb-20″ target="blank" size="7″ center="yes" icon="icon: shopping-cart" rel="nofollow"]View On Amazon[/su_button]
3. Motul 007250 8100 X-cess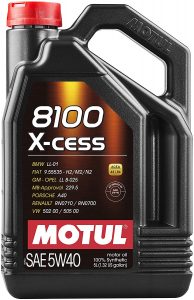 This Aubervilliers, France-based automotive lubricant manufacturer provides one of the best oil for BMW vehicles. The company has been active for more than a century. Motul 007250 8100 X-cess is one of the most popular synthetic oils for high-end vehicles. Plus, this motor oil is also recommended by vehicle owners and expert mechanics. 
Unlike other automotive lubricant companies, Motul has made its name with word of mouth. Regular buyers and fans of this particular oil feel proud to recommend it to their friends and family members. As the manufacturer claims, this oil does prolong the oil change intervals by a few thousand miles. You no more have to perform an oil change every 5000 miles. 
Once you switch your motor oil with Motul 007250 8100 X-cess, you will notice an instant improvement in fuel economy. Not only that, but the engine oil itself does not burn quickly. Ideally, a modern BMW engine won't burn more than a quart every 2000 miles— in most cases, the fuel indicator will still be green even after hitting 2000 miles.  
This BMW approved motor oil is also tested by Porsche A40, MB-Approval 229. 5, VW 502 00 – 505 00, Fiat 9.55535, GM- Opel LL B- 025, and Renault RN0710/RN0700. Hence, you can also use it with other vehicles in your garage. Plus, this multi-purpose oil also goes well with a lawnmower. Just make sure you go through the vehicle manufacturer's instruction manual before using this product.
Also, this oil is of a better grade than a full synthetic oil. Motul 007250 8100 X-cess comes in the synthetic Group IV oil, whereas a "full synthetic" is a Group III oil. This is a key factor as the level of impurities and the quality of base material used in the Group IV oil (also known as dino juice) is simply exceptional. A high-end BMW engine would thrive immediately upon coming in contact with this oil.
Motul 007250 8100 X-cess Is Suitable For:
Motul 007250 8100 X-cess is best suited for leaded or unleaded gasoline, diesel fuels, and LPG engines. This motor oil is liquid-engineered for the latest high-performance engines. I know the price of this product may seem a bit higher compared to others, but this little investment can go a long way.
Pros: 
It has an HTHS viscosity than other synthetic oils. 
Comes under Group IV synthetic oils— even better than "full synthetic".
Engine wear is reduced within a single oil change interval.
Oil consumption is reduced.
Maintains consistency even in harsh weather conditions.
Cons: 
Pricier than other synthetic oils.
[su_button url="https://www.amazon.com/dp/B004LEYIQ8?tag=buckeyeb-20″ target="blank" size="7″ center="yes" icon="icon: shopping-cart" rel="nofollow"]View On Amazon[/su_button]
4. Pennzoil 550020166-6PK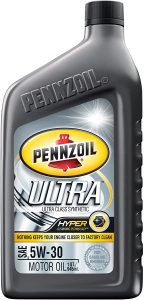 When it comes to engine wear protection, Pennzoil 550020166-6PK Ultra Synthetic Oil is considered even better than similar products by Castrol or Mobil 1. Kindly do not concede this product with the standard full synthetic oil by Pennzoil (which comes in a silver/grey bottle). This product is ultra-premium full synthetic and usually comes in a black or charcoal grey bottle. 
The package includes six bottles— five-quart each. This product is surely more expensive than other motor oils from Pennzoil. Pennzoil 550020166-6PK is the highest tier oil manufactured by this company. This BMW recommended oil detaches and collects the contaminants present in the engine in the oil. 
When particles such as dirt and impurities are left inside the engine for a long time, they are more likely to bond strongly with the engine parts. If you haven't serviced your BMW vehicle for a long time and are looking for a quick engine detox, this might be the right solution for you. Although, Pennzoil suggests waiting for two oil change intervals before you see performance-specific results.  
The first two oil change intervals should be no more than 3,000 miles. During this period, the Pennzoil 550020166-6PK motor oil will collect and remove all the contaminants from the engine parts. Further, you can go 10,000 miles easily with a single oil change interval. Kindly refer to the vehicle manufacturer's manual to find out the quantity of oil to add to the engine. 
When looking for the best oil for BMW vehicles, it is important to pick one with a wide viscosity range. You want the engine oil to retain its fluidity even in extremely cold conditions. This motor oil can easily withstand oil temperatures over 180 degrees celsius. Vehicles manufactured by BMW are high performance, hence it is key to protect the engine parts with the best engine oil available.
Pennzoil 550020166-6PK Is Suitable For:
Pennzoil 550020166-6PK is the recommended oil for BMW engines. The latest vehicles rolled out by BMW have compact and relatively small-sized engines. The tighter the space between engine parts, the more possibility there is for friction. Pennzoil 550020166-6PK is proven to keep tighter-tolerance engines in pristine condition, all year round. 
Pros: 
BMW recommended oil.
Manufactured by one of the best oil brands in North America.
Prevents the build-up of sludge in between the engine parts.
Multi-viscosity full synthetic engine oil. 
Suited for a wide range of BMW vehicles. 
Cons: 
The packaging needs some improvement.
This oil is not suitable for older engines— it won't be as efficient.
[su_button url="https://www.amazon.com/dp/B0123EL4G4?tag=buckeyeb-20″ target="blank" size="7″ center="yes" icon="icon: shopping-cart" rel="nofollow"]View On Amazon[/su_button]
5. Genuine Synthetic 5W30 Motor Oil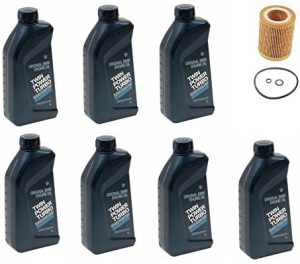 Genuine Synthetic 5W30 is the best oil for BMW engines. Although not made or marketed by BMW itself, it comes with a legitimate BMW rubber-stamp on it. Since the early 90s, Genuine (an American motor oil manufacturer) has produced this particular motor oil exclusively for BMW Twin Turbo engines. With time, the oil has evolved. It is now available in a six-pack of bottles (one quart each). 
In a BMW Twin Turbo engine, there are two turbochargers each compressing the air-fuel mixture. They are also referred to as dual power adders. There are several types of Twin Turbo engines available (used by other vehicle manufacturers too) but BMW vehicles are equipped with the Sequential Twin Turbo engine. These engines are compact and thus are prone to wear. 
The Genuine Synthetic 5W30 Motor Oil has a perfect combination of additives capable of protecting the BMW engines from the harmful effects of rust and corrosion. As you would already know, rust and corrosion are a result of friction between the engine parts— also sometimes the contaminants react with the metal parts. This product is liquid-engineered to prevent metal-to-metal contact between a small-sized BMW engine such as BMW N57S.
This product is rated by BMW LL-01 and API SL. Although BMW is a vehicle manufacturer, it also has an excellent testing facility where they test, rate, approve, and categorize engine oil brands. A BMW  vehicle owner— no matter where he/she is located on the planet— should always use engine oils coming in one of the seven BMW oil specifications. 
A product with a BMW Longlife-01 (BMW LL-01) rubber-stamp indicates that it has gained approval by BMW as a legit fully synthetic long-life oil. Also, the products meeting the  ACEA A3/B3 and API: SJ/CD EC-II criteria are also put into this category. Kindly note that, these specifications are there to assist the customer make an informed decision. 
Along with the six-pack of Genuine Synthetic 5W30 Motor Oil, you also receive a first-grade quality spin-on oil filter by MANN-FILTER. This filter is approved for all BMW engines. According to some expert mechanics, BMW vehicle owners should change the oil filter every 10,000 miles or 12 months. But I would suggest you go through the vehicle manufacturer's instruction manual first. 
More on the MANN-FILTER spin-on oil filter. The best thing about this filter is the housing and filter element can be separable— both components are fully replaceable during maintenance. The return stop valve ensures that the oil remains within the tank even when the engine is turned off. Oil spillage is a major issue faced by vehicle owners. 
The MANN-FILTER also comes with a bypass valve. If you live in a region with extreme cold conditions, an oil filter with a bypass valve can help you start the vehicle without any issues, Cold starts are also prevalent in high-end BMW engines. Also, the bypass valve protects the engine when you exceed the oil change intervals. It keeps the engine clean and tidy.
Genuine Synthetic 5W30 Motor Oil Is Suitable For:
Genuine Synthetic 5W30 Motor Oil suits best and is approved to be used by following BMW models: 
1 Series
2 Series
3 Series
4 Series
5 Series
6 Series
7 Series
8 Series
X1 Series
X3 Series
X5 Series
X6 Series
Z Series
As already stated, this engine oil is created for BMW vehicles with Twin Turbo engines. A conventional or synthetic blend oil is not a good choice for a high-end BMW vehicle. Genuine Synthetic 5W30 Motor Oil offers better viscosity properties than any other oil. This is why it is reckoned as the best oil for BMW engines.  
Pros: 
BMW recommended. It comes with a BMW Longlife-01 (BMW LL-01) rubber-stamp.
Exhibits improved fuel economy.
Reduces carbon dioxide emissions in a BMW Twin Turbo engine.  
Protects the engine from rust and corrosion. 
Also comes with a top-rated spin-off oil filter by MANN-FILTER.
Cons: 
A bit pricier than other synthetic oil brands. 
[su_button url="https://www.amazon.com/dp/B01L2FAV2S?tag=buckeyeb-20″ target="blank" size="7″ center="yes" icon="icon: shopping-cart" rel="nofollow"]View On Amazon[/su_button]
6. Valvoline Advanced Full Synthetic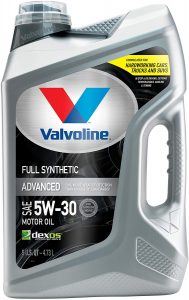 Valvoline is an American automotive lubricant manufacturer. The company is headquartered in Ashland, Kentucky. For the past century, Valvoline has established itself as the go-to brand for high-quality full synthetic oil. Before you read further, I would like to inform you that this is not one of the expensive engine oils. It is affordable, feature-rich, and most importantly user-friendly.
This product is available in an easy-to-pour five-quart bottle. The bottle is equipped with advanced features such as an easy pull tab, precision pour spout, and anti-glug tube. Poor packaging and leakage of the contents are one of the most common problems faced by those who use (both no-name and branded) engine oils. Valvoline pays extra attention to user-experience. 
This particular product was formerly marketed in the United States under the brand name "Synpower". Since the beginning, this product has had the ILSAC rubber-stamp nailed on it. In case you didn't know. International Lubricant Specification Advisory Committee (ILSAC) is a joint committee by the United States and Japan vehicle manufacturers. 
ILSACs primary goal is to make sure the automotive industry meets the latest engine protection standard and fuel economy requirements. Furthermore, this product is made with the best quality base materials. Engineers at Valvoline have formulated the additives based on years of research and experimentation. A BMW Twin Turbo engine would thrive when drenched in this oil. 
To reiterate, this product is approved and licensed with API SP, ILSAC GF-6, API SN with SN Plus, API Resource Conserving, ILSAC GF-5, and GM dexos 1 Gen2. You should also know that this product is made exclusively for the North American populous. Quality requirements and safety standards in North America are way higher than in other parts of the world. 
Valvoline Advanced Full Synthetic Is Suitable For:
Do you own a relatively older BMW vehicle? Have you exceeded the oil change intervals by a few thousand miles (or a few months)? To counter this scenario, the best course of action would be to use the Valvoline Advanced Full Synthetic for two short (3000 miles) oil change intervals. The affordability and effectiveness of this product allow vehicle owners to use it for quick engine detox. 
Pros: 
Anti-wear additives keep the engine's condition as good as new. 
Multi-viscosity oil. Flows smoothly even in the coldest of the weather.
Excellent cleaning ability. Cleans sludge even from the dirtiest engines. 
Capable of withstanding high engine temperature.
Suitable for extra-long drain oil change intervals.
Cons: 
This product is not BMW approved. 
[su_button url="https://www.amazon.com/dp/B00GZKC6DS?tag=buckeyeb-20″ target="blank" size="7″ center="yes" icon="icon: shopping-cart" rel="nofollow"]View On Amazon[/su_button]
How Do I Choose the Right Oil for My Car?
Finding the appropriate oil for your car depends on a few factors. If this is your first time, sparing some time to consider these attributes can help you make good choices whenever you need to change your oil.
API Symbols
You may have seen the API "Service Symbol Donut".
Licensed oils display this service symbol, which you can find in your car's manual. The API or the American Petroleum Institute offers this certification of engine oils, ensuring they meet quality and performance standards for Original Equipment Manufacturer (OEM).
Here's how to read the service rating:
Top – This part refers to the API performance standard. You can find S + another letter, such as N for oils catering to gasoline engines (API SN) and C + another letter and a number for oil catering to diesel engines (API CJ-4). S stands for "service" while C stands for "commercial."
Center – This section displays the SAE viscosity grade of the motor oil. We'll explore more about the viscosity below.
Bottom – This area shows that the oil passed the engine test for resource-conserving properties when compared with a reference oil.
Another mark to check out is the API "Starburst," which tells you that the motor oil meets the latest standard by the International Lubricant Specification Advisory Committee (ILSAC). API is a part of the ILSAC, which members include other industry trade associations, vehicle, and engine manufacturers, and oil and additive companies.
Credit: API
Viscosity
Viscosity refers to how easily motor oils, as well as transmission oils, pour at a certain temperature. The current scale was developed by the Society of Automotive Engineers (SAE). This test determines how easily the engine oil flows at 0 degrees Fahrenheit (-17.8 degrees Celsius) and at 212 degrees Fahrenheit (100 degrees Celsius).
The common notation used is "XW-XX," where the number before W (winter) refers to the oil's viscosity at 0 degrees Fahrenheit, and the number after W represents viscosity at 212 degrees Fahrenheit. 
So, a 5W-30 grade means the oil thickens less than oil with 10W-30 grade. In cold temperatures, thin oils have lower viscosity and pour more quickly than thick oils. The former facilitates quick startups during winter due to decreased friction. 
Meanwhile, a 10W-30 grade shows the oil is less resistant to thinning at higher temperatures than oil with a 10W-40 grade.
Type of Oil 
After knowing the API certification and viscosity rating, you need to understand which type of oil works best for your vehicle. Is it conventional oil, semi-synthetic, or full synthetic? Let's find out.
Premium Conventional Oil – The new car oil, according to standards, this type can accommodate almost every light-duty, on-road vehicle. Car manufacturers indicate the appropriate service level for their models. Conventional oils are available in the current service level SN, which is backward-compatible (it can work for older but non-obsolete standards).
These options also come in various viscosities, often in 5W-20 or 5W-30 grade for lower temperatures and 10W-30 oil for higher temperatures.
With the use of conventional oil, you must consistently change oil and filter, at least twice a year. The best practice is 4,000 miles per 4 months. An electronic change-oil indicator should warn you when you reach beyond the recommended output.
Fully Synthetic Oil – This type of oil is compatible with high-tech engines, such as those found in BMWs. You can rely on the excellent performance of fully synthetic oils where it matters, from viscosity and lubricity to deposit protection. They have better flow at low temperatures and achieve peak lubricity at high temperatures.
Despite its enviable output, this type is expensive, and synthetics may not be suitable for some engines. Always refer to your car's manual to ensure everything is aligned with your engine's needs.
Synthetic Blend Oil – High-load vehicles, such as pickups and sports utility vehicles (SUVs), can benefit from this oil type, which combines organic oil with synthetic oil. This formula offers protection to engines designed to handle heavy loads and high temperatures.
With reduced volatility, synthetic blend oils can enhance fuel economy through minimal oil loss. How does this happen? These oils are subjected to less evaporation. They're not as expensive as fully synthetic oils and only a bit pricier than premium conventional ones.
Higher-Mileage Oil – As more and more vehicles become capable of reaching over 75,000 miles, the demand for high-mileage oil also rises. In fact, oil manufacturers have found this buyer segment previously underserved. Now, this oil type is available for those who want to run the mileage of their car, light truck, or SUV into six figures.
At the same time, high-mileage oils contain seal conditioners that can help prevent further crankshaft seal leaks in older vehicles. Some can also improve viscosity, which tends to be high among higher-mileage vehicles suffering from engine wear.
Additive Packages
As shown above, some other chemicals and minerals are added to oils. The seal conditioners and anti-wear agents in high-mileage oils are two examples of additives that manufacturers include in their product formulas. These have specific benefits to add, such as sealing leaks and countering the effects of wear in vehicles.
What Kind of Oil Is Recommended for BMW?
As a BMW vehicle owner, it is always a good idea to go for a "full synthetic" or an "ultra synthetic" engine oil. Pick the brand based on the price, features, oil certifications, and approvals. Auto engineers and qualified mechanics recommend using an engine oil approved by BMW— look for the approval rubber stamp or a sticker on the container. 
Remember that engine oil is selected based on the engine type. Most BMW vehicles come with a Twin Turbo engine and hence a "full synthetic" or an "ultra synthetic" engine oil suits the best. A good quality engine oil will keep the engine clean and protected from wear. 
Lastly, it is also advised to go through the vehicle manufacturer's instructional manual once. Here, you will find information related to engine oil dosage, tank capacity, etc. Also you can keep checking on Driving & Style, they always work to provide latest information in the automotive world.
Conclusion
Before changing engine oil in a BMW vehicle, it is essential to check whether the indicator shows a decrease in the level of oil. Most BMW vehicles have a longer drain interval. You don't want to waste your money, time, and effort by performing a premature oil change interval. After the oil change interval, place the container in a safe and dry location. 
From the above list of motor oils, I would pick Castrol 03084 EDGE as the best for a Twin Turbo BMW engine. Castrol is the pioneer of motor oils. This product will protect the advanced turbocharges motors from heat. Further, Castrol 03084 EDGE meets the requirements set by BMW LL-01.