Last Updated on August 25, 2022 by John Robinson
The clunky design with groovy details and gunk-kicking capability cannot be hidden from view. They will catch your eye even from afar. 
You are looking at heavy-duty mud-terrain tires. These are your trusty companions during off-road trips and adventures. 
After days of digging into offline and online sources, we finally got to round up our top picks for this category. It's not surprising to find the BFGoodrich Mud-Terrain T/A KM2 ranking first. Its effectiveness on unpaved roads, coupled with its versatility on the road, are worth the price.
But that's just the beginning. We have more in store for you if you could start scrolling down to the reviews now.
Reviews of 8 Best Mud Terrain Tires
1. BFGoodrich Mud-Terrain T/A KM2
Best Overall
Built tough to withstand all the abuse you want to throw its way, the BFG Mud Terrain KM2 is one of the most popular M/T tires sold today. Expect to find excellent off-road traction in all types of terrain. This tire also sports very good manners when driving on-road, with very good marks for wet and snow handling as well. Treadlife is longer than you might expect, making this tire an excellent choice.
The BFGoodrich Mud-Terrain T/A KM2, are solid performers that are able to provide excellent grip and handling in loose soil and on slick rock surfaces to enable you to make the most out of your SUV or pickup truck.
Pros:
Specially designed tread compound that enables the tire to clean itself
Sidewall design to help protect the tire from damage
Sturdy build quality incorporating two steel belts and a nylon cap ply
Excellent off-road performance
Good handling on dry surfaces coupled with responsive steering
Durable tire that will last long
Cons:
Performance on wet roads is subpar; steering responsiveness and braking are average
[su_button url="https://www.amazon.com/dp/B004QGZC98?tag=buckeyeb-20″ target="blank" size="9″ center="yes" icon="icon: shopping-cart" rel="nofollow"]View On Amazon[/su_button]
2. Nitto Trail Grappler M/T
Best Overall Runner-Up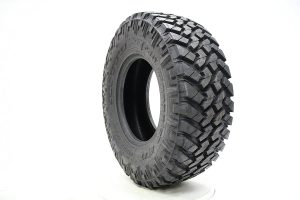 The Trail Grappler M/T from Nitto is another excellent mud-terrain performer. Its ability to meet the challenges posed by off-road driving on mud and rock surfaces whilst allowing for responsive steering and stability makes them a worthy choice to include in our list of the best mud-terrain tires.
Playing in the mud is a lot of fun on this Nitto Trail Grappler M/T. With tough 3-ply construction and aggressive good looks, it's easy to see why drivers enjoy taking their trucks or SUVs out for a day on the trails, river beds, and other areas. The tire goes through it all and keeps you in complete control. Taking this tire for a spin down the highway is a very pleasant, and quiet, experience. Overall, one of the better MT tires available.
Pros
Sidewall design adds to life by reducing tire bruising
Tread blocks designed to reduce noise output
Siping to increase hydroplaning resistance
The performance on off-road trails is excellent
Noise output is very low
Cons
Performance on wet road conditions is average
Buy a set of Nitto Trail Grappler M/T Tires now
Click Here For A Complete Review
[su_button url="https://www.amazon.com/dp/B00408508K?tag=buckeyeb-20″ target="blank" size="9″ center="yes" icon="icon: shopping-cart" rel="nofollow"]View On Amazon[/su_button]
3. Cooper Discoverer MTP
Best Value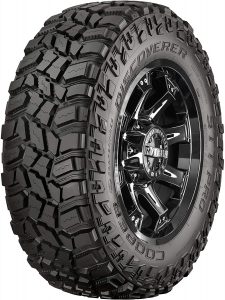 The Cooper Discoverer MTP has been available in the market for a few years already. And it has already gained popularity as one of the best tires you could equip your vehicle with; owing to Cooper's often cited insistence of making durable tires that will make you go the distance.
For heavy-duty use on all types of rough terrain, the Cooper MTP has you covered. This Cooper MT model utilizes the latest engineering for superior off-road driving while maintaining more than capable of on-road performance. The price is also a bit lower than many of the other top tires in class, making it a good value overall.
Key Features
Shoulders are large to enable better traction and handling
Siping to increase traction on wet roads
Grooves allow increased responsiveness and handling on mud
Pros
Traction on rugged surfaces is excellent
Durable and sturdy design
Performance on light snow conditions is very good
Cons
Tire becomes increasingly noisy at high speeds
Buy a set of Cooper Discoverer MTP Tires now
Click Here For A Complete Review
[su_button url="https://www.amazon.com/dp/B0147SV96E?tag=buckeyeb-20″ target="blank" size="9″ center="yes" icon="icon: shopping-cart" rel="nofollow"]View On Amazon[/su_button]
4. Firestone Destination M/T2
Best Value Runner-Up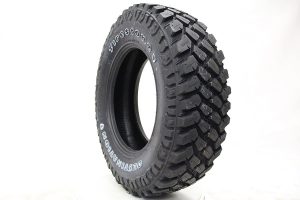 The Destination M/T2 from Firestone makes the list due to its excellent performance both on and off-road.
Firestone Destination M/T2 is one of the best mud-terrain tires, for its ability to tackle the various elements and provide a comfortable driving experience. Firestone has designed the tire with a tread block pattern that allows it to have a strong grip on all surfaces.
Mud and snow traction is outstanding, and this tire cleans out as well as any other model in this class. On-road comfort and drivability are equally impressive. With a longer than expected tread life, this tire is a serious contender for anyone looking for new MT tires.
Key Features
More biting edges to increase traction on snowy surfaces
Mud and debris ejectors to increase tread life
Sidewall to protect the tire from damage
Pros
Handling and stability is excellent on all surfaces
Driving on straight roads and highways is very comfortable
Cons
Prone to wearing out easily
Can become noisy over time
[su_button url="https://www.amazon.com/dp/B074KR7K93?tag=buckeyeb-20″ target="blank" size="9″ center="yes" icon="icon: shopping-cart" rel="nofollow"]View On Amazon[/su_button]
5. Michelin Defender LTX M/S
Best Budget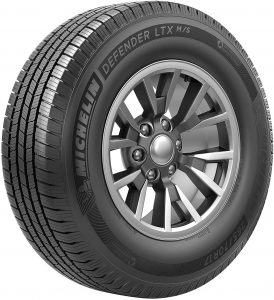 Another premium mobility product from Michelin is the Defender LTX M/S. It sports a triple threat against an unsatisfactory driving experience. First, it is a high performance, which means it allows you to coast along highways pretty fast. Second, it is an all-season tire, which helps you navigate dry and wet roads without slowing down. And third, it yields a quiet and smooth ride.
The M/S rating tells you that it can be taken out for rides through mud and snow. This functionality is due to the tread design that enables water discharge when it's raining or snowing. Together with the proprietary Evertread compound, the tread makes the tire last 10% longer in wet weather. 
Not to be left behind is its grip, which offers shorter stopping distances in wet or emergency situations. Meanwhile, fuel economy is improved by the MaxTouch construction.
However, as one of the quietest tires, it remains stiff. Not all rides over bumps and holes can end up smooth with this one. It also heats up and cools down quickly, increasing pressure on the rubber, which can then result in a flat or blowout. 
Also, this Michelin model falls on the higher-end of the mid-range prices. But its warranty is generous with the standard 6-year limited warranty for defects in materials or workmanship. It also gives 70,000 miles warranty to vehicles with sizes with T and H speed ratings and 50,000 miles warranty to LT sizes.
Michelin Defender LTX M/S Is Suitable For:
This tire is compatible for use in light trucks, crossovers, and SUVs. In particular, it can fit the T, H, and LT sizes. Plodding through mud and slush is possible, so those who want all-season high performance can rely on this one. But it should not be driven through deep snow.
Pros:
It combines premium features, such as directional tread design, the Evertread compound, and MaxTouch construction, to deliver good traction, excellent grip, and a quiet drive.
It can be driven in wet and dry conditions.
It can enhance durability and fuel efficiency.
It has a high mileage warranty.
Cons:
It is more expensive than other models.
It tends to be stiff and, thus, uncomfortable when you're riding over bumps and holes.
It can warm-up and cool down quickly, decreasing rubber density and resulting in a flat or blowout.
It may be loud depending on other factors than tire quality, such as the terrain and road pavement type
[su_button url="https://www.amazon.com/dp/B0192KSGD6?tag=buckeyeb-20″ target="blank" size="9″ center="yes" icon="icon: shopping-cart" rel="nofollow"]View On Amazon[/su_button]
6. Pirelli Scorpion Verde All Season Plus
Best Budget Runner-Up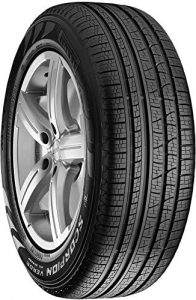 Scorpion Verde is a Pirelli series of products for SUVs and crossovers. With the Scorpion Verde All Season Plus, you get an option for your sports coupes and sedans as well. While the lineup is known for its summer tires, this one is designed for all-season driving. It's a touring tire with eco-friendly functionalities for safe and healthy time on the road. 
As a touring tire, it operates at higher speeds than your typical all-weather or winter choice. Its silica-enhanced compound yields low-rolling resistance for reduced carbon dioxide emissions and improved fuel economy. Its M+S rating ensures its optimal performance in mud and snow. Usually, this means the rubber material is softer to achieve a better grip in colder weather.
Another plus for this model is its moderate off-road capabilities, taking on light trails and dirt roads. It maintains traction on both wet and dry surfaces, although it is far more effective on the latter. 
At less than $150, this version can give you your money's worth as it serves you throughout the year. It is also a quiet companion, with a 65,000 mileage warranty to boot. Make sure to familiarize yourself with the replacement terms and conditions of the company on the Pirelli website.
Pirelli Scorpion Verde All Season Plus Is Suitable For:
This tire is developed as a touring all-season tire for passenger vehicles and light trucks. If you own an SUV, crossover, large sport sedans, and coupes, this one is also for you. Offering value for money, it can be aligned with the needs of many mid-range budget finders.
Pros:
This touring tire has higher speeds that work well for sports vehicles and crossovers.
It allows for enhanced grip in cold weather conditions.
It is an eco-friendly option that helps lessen CO2 emissions and improve fuel efficiency.
It is quiet on the road.
It has mild off-road capabilities.
With its mid-range price, it gives you your money's worth.
Cons:
This may not be the best model for driving in harsh winter conditions.
Some merchants may not offer a warranty.
[su_button url="https://www.amazon.com/dp/B00NWJ780G?tag=buckeyeb-20″ target="blank" size="9″ center="yes" icon="icon: shopping-cart" rel="nofollow"]View On Amazon[/su_button]
7. Toyo Open Country MT
Best Affordable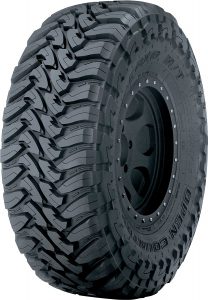 The Japanese manufacturer enters the list of best mud-terrain tires, with a design that seeks to synchronize the comfortable driving needs of a city driver, along with the traction and grip requirements of a driver with a knack for off-road driving.
The Toyo Open Country MT has been a popular choice with off-road enthusiasts for a few years now. It's also a great choice in tires for those living in rural areas and needing dependable traction year-round, including snow and ice. This Toyo mud tire has a three-ply sidewall and scalloped lugs for added protection and excellent traction. The tread is computer-optimized to minimize road noise and make it one of the quietest MT tires available.
Key Features
3 Ply polyester construction to increase durability
Tread block design that allows for better traction
Siping to increase steering on wet surfaces
Pros
Traction on dry road and mud surfaces is fantastic
Tire performs well on light snow surfaces
Cons
Tire durability is a concern, tread wear is evident with the use
Buy a set of Toyo Open Country M/T Tires now
Click Here For A Complete Review
[su_button url="https://www.amazon.com/dp/B00565Y1PO?tag=buckeyeb-20″ target="blank" size="9″ center="yes" icon="icon: shopping-cart" rel="nofollow"]View On Amazon[/su_button]
8. Milestar Patagonia M/T
Best Affordable Runner-Up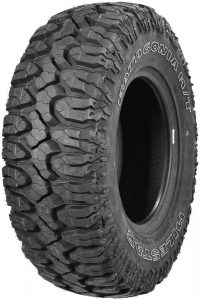 Milestar Patagonia M/TFor budget-minded drivers, the Milestar MT is one of the best performing lower-cost tires available today. Its off-road traction is impressive in all areas, while it handles itself quite well on the street. This model is a sleeper among other MT tires and one that is a solid value as well.
The Patagonia M/T by Milestar is another tire featuring a stunning tread pattern that doesn't compromise its ability to perform in harsh conditions. The 3-Ply sidewall design allows the tire to survive against impact, whilst the built-in stone ejectors keep debris buildup to a minimum.
Key Features
Tread design that increases the useful life
Biting edges that provide added traction on all surfaces
Siping to improve performance on wet roads
Pros
Stirring good looks
Performance on rugged and mud-terrain is outstanding
Low noise output allowing for a pleasant driving experience
Cons
[su_button url="https://www.amazon.com/dp/B01FVL6UU6?tag=buckeyeb-20″ target="blank" size="9″ center="yes" icon="icon: shopping-cart" rel="nofollow"]View On Amazon[/su_button]
Are Mud Terrain Tires Good on the Road?
Generally speaking, a mud-terrain when exclusively driven on a smooth concrete road would be as long as or even more. Unless the manufacturer puts restrictions, you are free to use the off-road vehicle on the road. But also keep in mind that these tires are made with soft and flexible materials. The gooeyness of a mud tire enables it to withstand the pressure of rocks, sand, and other pointy objects found in a muddy region.
You can drive the off-road vehicle on concrete for as long as you want, just make sure not to exceed the speed limit set by the manufacturer. Mud tires are not made for high-speed driving. In a muddy region, it is anyways not possible to drive the vehicle at high speed. Doing so would result in a "loss of grip" and eventually a crash. 
Driving your off-road vehicle 90 miles an hour on a smooth concrete road would result in severe damage to the tires— chunks of rubber will begin flying off the tire. If your work involves driving the same vehicle on and off the road, consider switching to all-terrain tires. 
Do Mud Terrain Tires Wear Faster?
There is no single answer to this question. Several factors need to be taken into account before coming to some sort of conclusion. Ask yourself the following questions. 
How often do you use your off-road vehicle? 
How muddy or rocky is the terrain in your region? 
Do they meet the requirements set by authorities? 
Do you also drive the same vehicle on the smooth road?
Ideally, a good quality mud tire should last as long as an all-terrain tire does. It's true that an all-terrain or an all-season tire does not have to go through harsh driving conditions. Hindrances like rain, wind, snow, mud, rocks, etc do not come in the way of an all-terrain tire. 
Such is not the case with a mud tire. However, a mud tire is made with softer materials. Hence, it maneuvers through the rough terrain with ease. Not only does it withstand pointy objects like rocks (without breaking apart), but it also helps the vehicle grip the ground better. 
What Is the Most Aggressive Mud Tire?
Nitto Trail Grappler M/T is one of the most aggressive mud tires available. This structurally solid tire is built keeping almost all aspects of off-road aggressive driving in mind. Performance-wise, this tire is a beast. It is both aggressive and quiet. 
The engineers at Nitto have also used advanced sound analysis equipment to reduce the noise levels. Also, the void ratio (the gap between the tread blocks) is kept as wide as possible. Your off-road vehicle will solder on amidst all difficulties.
How Long Do Mud Terrain Tires Last?
Mud tires are made from impact-resistant materials. However, even a virtually indestructible mud tire comes with an expiration date. Generally, they don't last more than 40,000-50,000 miles. The higher the quality of the tire, the longer it will last. The age of a mud terrain is also determined by its application and frequency of use. 
Conclusion
A mud terrain tire is built to withstand the elements. Whether you are planning on taking your off-road vehicle in muddy terrain or for rock climbing, there are application-specific tires available in the market. 
Although, I would recommend BFGoodrich Mud-Terrain Tire for all-purpose off-road driving. It offers excellent traction in deep dirt, mud, and rocks. The best terrain tires are the ones with rugged construction and the ability to operate quietly. 
This tire is capable of taking some serious beating. Also, the computer-optimized tread design reduces noise by a significant level.