Last Updated on September 13, 2022 by John Robinson
Enlarging already present holes in a metal is the work of a special equipment known as a reamer. The process of enlarging such a hole is known as reaming and it is quite different from the traditional drilling process. Foremost, reaming only enlarges the size of existing holes, it does not help in creating new ones. 
We have brought you excellent technical advice and a convenient guide on how to enlarge an existing hole in metal. There are dependable HMT reamers that you can absolutely rely on. We have eased your search by undertaking all the essential research and getting you what is best in the market. 
Follow these steps to know

how to enlarge an existing hole in metal

First of all, your workpiece should be fixed in the most secure way possible. It is important for the workpiece to be firmly fixed so that it doesn't move during the reaming process. 
Consider the measurements of the hole you want to expand and select a reamer of the appropriate size. It is also recommended that you enlarge the hole in small increments of 2-3 mm at one time. This would prevent any accidental breakage of tools and conveniently accomplish your task. It is advisable that you don't try to accomplish the final results in one go. Incremental steps provide the best neat results.
Once you have selected the right size of the reamer, fit it into your drive tool. It is fairly important that you choose the right adapter for this process. Select the correct adapter and fit it to the drive tool before inserting the reamer. You can easily utilize the reamer in either an impact wrench, SDS drill, or a magnet drill, according to your preference and style. 
The insertion of a reamer into a magnet drill needs proper tightening of screws to secure it firmly in position in the arbor. When you are ready, insert the reamer into the hole you wish to enlarge. Reamers like VersaDrive and ImpactaMag are tapered and will center by themselves. This is essential because of their sloping sides. 
When the reamers are used along with a magnetic drill, they can only be centered when the magnet is switched down. So you will have to turn off the magnet while bringing the drill to the right position. 
When you begin, the reamer must be withdrawn to a small extent such that it loses contact with the sides of the hole. Only then, you can start spinning. Once you apply the cut, keep the pressure fixed and steady throughout the process. The process can be called complete when the reamer reaches its widest part. You can then stop the reamer's spinning and withdraw.
Consider this valuable advice for efficient reaming

It is always convenient to step into a new venture with valuable advice in hand. Foremost, you ought to ensure the minimum requirement of torque for the tool you are using. 
Furthermore, it is essential that you apply a continuous feed pressure for the entire duration of the cut. The pressure should be constant and slow. The first 1 mm of the cut should be accomplished relatively slowly and with great caution. 
Any lateral movement of the tool during cutting could cause irreversible damage to them too. It is also essential that your tools are regularly supplied with quality cooling lubricants to ensure their dependability. This is especially important when you drill through hard and thick materials.
Note that the longevity of your tools can be maximized if you only utilize them to enhance the hole diameter by 2.3 mm. For a larger enhancement than 2-3 mm, you must use a reamer of the next size and then continue with the process. 
Also note that it may not always be convenient to ream holes in metal that are cut by laser, flame, or holes that are punched. At least not with the help of an impact wrench. In such scenarios, holes can be effectively reamed with the help of a magnet drill at slow speed in combination with an ImpactaMag or a VersaDrive reamer.
The RPM speed should be correctly set. Any incorrect RPM speed can reduce the longevity of your tools and even result in early breakage. When you are magnet drilling, it is important to ensure that the surface is free of debris. This would render the strongest magnet hold. 
It is essential that you regularly analyze the handles, slides, arbors, and other movable parts of a magnet drill that may have become loose with recurring vibrations. Consider that the action of impact wrenches and impact drivers is relatively faster. 
Consider two of the best reamers in the US market
VersaDrive Impact reamers and HMT ImpactaMag reamers are amongst the best possible choices you can get.
1. VersaDrive Impact Reamers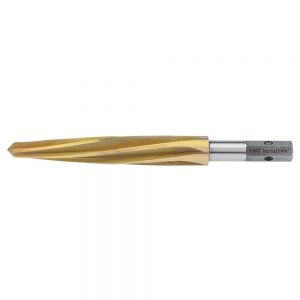 https://holemaker-technology.com/
VersaDrive reamers are considered one of the best enlarging tools for metalworkers. Any misaligned or incorrect hole can be effectively reamed in a convenient manner. The unique design of this reamer consists of a six-flute cutting geometry and a durable coating of Titanium. These reamers are rated for Impact and serve the fastest in combination with an Impact wrench. Unlike most other reamers, these are dependably powerful and encounter no power tool kickback. 
The Hex shank for these reamers is patented and endowed with non-slip technology. Such that it is suitable for use along with any standard ½" drill chuck meant for cordless as well as pistol drills. A VersaDrive rapid lock adapter can be utilized for use along with magnetic drills.
This reamer has been uniquely hardened for use with impact wrenches. The quality of steel utilized in their constriction is high grade and ensured reliable longevity. Note that these reamers work the fastest in combination with impact wrenches and drivers. 
Flame and plasma cut holes should rather be enlarged with the help of a magnet drill. It is important that the cut is started when the reamer is rotating. Also, the pressure applied during the reaming process must be steady. 
[i2pc show_title="false" title="Pros & Cons" show_button="false" pros_title="Pros" cons_title="Cons" ][i2pros]The cutting is exceptionally smooth owing to the special six flute design
These high-quality reamers make the process relatively safe
These reamers have been specially hardened for best use along with impact wrenches
They consist of a Goldmax low-friction titanium coating that stops burn out
These reamers are made out of high-grade steel that enhances the accuracy
The shank has a non-slip design
[/i2pros][i2cons]These reamers cannot be employed for materials more than 20 mm in thickness[/i2cons][/i2pc]
Verdict 
The high-quality VersaDrive reamers are perfect for reaming holes in metal below 20 mm in thickness.
2. HMT ImpactaMag Reamers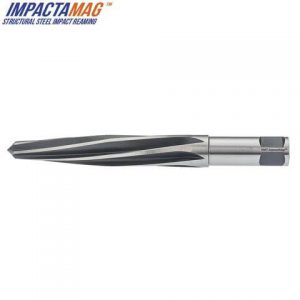 https://holemaker-technology.com/
This exceptional double-purpose reamer can be effectively utilized for enlarging holes in hard materials and metals more than 20mm in thickness. It can also be used for aligning holes in hard materials. Endowed with a unique cutting symmetry, these can be utilized in combination with a magnet drill as well as an impact wrench.
Their combination with an impact wrench requires the use of a specific adapter that makes the control easier. This adapter would also ensure the application of the proper feed rate and withdrawal from the finished hole. All these features serve to wonderfully enhance the life of your tools. 
The tapered configuration of this reamer allows the best centering after the entrance into an existing hole. Precise shavings can be cut on either side of the hole when used in a rotary impact motion. This reamer is utmost ideal for bridge work, steel erection, and for the best modification of existing holes. 
The cuts are faster and smoother owing to the excellent six-flute design. Also, this reamer is available in many intermediate sizes. 
[i2pc show_title="false" title="Pros & Cons" show_button="false" pros_title="Pros" cons_title="Cons" ][i2pros]This reamer can be effectively utilized for reaming holes in metal thicker than 20 mm
It is considered most perfect for bridge work and steel erection
This reamer can be utilized in combination with an impact wrench as well as magnet drill
The six flute design renders excellent smoothness to cuts
This reamer is available in many intermediate sizes
The design in effectively tapered for ease of centering
[/i2pros][i2cons]A special adapter is required for use along with a magnet drill [/i2cons][/i2pc]
Verdict 
These reamers are exceptional and quite handy in reaming holes in hard materials that are thicker than 20 mm. 
Conclusion 
You can conveniently follow the above-mentioned steps to safely enlarge a hole in metal. When the metal is less than 20 mm in thickness, it is recommended that you employ the VersaDrive impact reamer. You can depend on the HMT ImpactaMag reamer for metals greater than 20 mm in thickness.
An ImpactaMag reamer will also be more convenient when you are using a magnet drill devoid of an adapter. A misaligned or incorrect hole in metal shouldn't count amongst your problems anymore. You can quickly overcome such a problem by employing these reamers in combination with adequate drills. 
Note that the pressure applied during the reaming process should be steady and free of tilting motion. The RPM speed should be correctly set. Reaming can be a very easy process if you carefully follow the right steps.