Last Updated on August 3, 2023 by John Robinson
You've seen it in the Guinness World Book of Records, you've seen it on the telly, you've probably seen it in the streets and it took you by surprise – at least it did for us here at the Petrol Gang! Although it may look like a toy, these wind-up cars can actually work!. The world's smallest wind-up car comes in many different variants, anything from your typical everyday cars to even Postman Pat's iconic mail truck.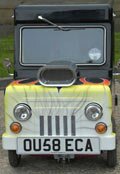 Perry Watkins is the man behind the world's smallest car, and if that name sounds familiar to you, well it's because Perry Watkins was also the man behind the Flatmobile!
What's the Flatmobile? The Flatmobile is the world's lowest road-legal car that's just 19'' high!
While this is Perry's third project, he has done a lot of projects over the years, including a Hillman Imp called "Impressed" which was 26.5'' during 1990.
It was then followed by a Mini called "Lowlife" which was 24'' high and even had boasted a 3.5 V8 engine.
But it's not only cars where Perry works his magic, his first project was 9'' tall road-legal Dalek!
So how did the world's smallest wind-up car come about? What process and tools were used to make it work? How was it able to run in the road without breaking any laws?
Well, first things first, Perry did a lot of research to make the world's smallest wind-up car, he even compared it to the current record holder at that time which was by the Peel. 
Not every gambling club can boast of such a variety of gaming and bonus offers as the online casino FairGo https://playappcasino.com/fairgo. The range includes a collection of licensed games from trusted suppliers for all tastes. And nice bonuses are offered to customers of the site without any special conditions. It is enough only to register at FairGo casino and make a first deposit, answer correctly the three questions of the quiz.
During the 1960s, the Peel Engineering Company built these cars in the Isle of Man, their car was 53" long, 39" wide and 53" tall. It is a quirky looking single-seater with a 50cc engine and even had no reverse gear!
After researching and gathering the materials he needed, Perry did another round of research regarding the laws in the UK, since there are strict regulations that apply to the construction of motor vehicles, Perry needed to make sure that his car would meet all the safety and road regulations so that he could register it and make it legal on the road.
Using Postman Pat's beloved mail truck, Perry cut away the false wheels and got rid of Postman Pat and the cat so that he could make space for the lights, radiator, and other parts.
Perry then decided to purchase a quad bike and brand new Shanghai Shenke 150cc automatic from eBay, he then dismantled the quad bike and chopped off the rear section and replaced it with a custom-built 2"x1" box section seat frame to fit inside the body of Postman Pat's mail truck.
He then shortened the swinging arm by 6" along with the drive chain, and relocated the brake calliper underneath to make room so that he could fit his butt.
The front wishbones were all remanufactured together with the new fabricated suspension mounts. After that, Perry then manufactured a new steering column assembly with a spiral bevel gearbox in the centre to transfer the drive through 90 degrees.
He then asked help from his friend for the tyres and had the seat upholstered and had an aluminium key made for the rear which was driven by a small electric motor that turns at 15rpm.
He then took it for a test drive but encountered a small problem, however, that didn't stop Perry and he immediately got to work to fix it, once that was done, he then repainted the car, added lights and exhaust and took off!