Last Updated on September 14, 2022 by John Robinson
Everyone loves receiving presents, no matter the occasion. But here's another thing we can agree on – picking gifts can be tough, particularly if you're shopping for a self-confessed car lover! 
Getting a vintage car would make a top-notch gift for any gearhead, but that's not your only option! There are plenty of gifts that can strike a chord with the four-wheel enthusiast in your life. But don't know where to start?
Not to worry! The good news is, we love cars here and would like to help you pick the best gifts for car lovers on your list. We've done the hard work of finding only the coolest and most awesome gift ideas that car enthusiasts will love – so you don't have to! 
But how can we guarantee that they will love it? Coming from true gearheads like ourselves, here's a simple shopping guide:
Car fans love gifts that speak of their passion, whether it's their favorite car model, brand, or anything four-wheel-related. 

They will appreciate functional and useful gifts, especially those they can use while working under the hood.

Lastly, it could be playful and fun but still connects them to their true passion – cars! 
Whether you are in search of the ideal gift for the special car lover in your life, a perfect stocking filler for the holidays, or any occasion, really, you're in the right place. 
Come and take a look at the best gift for the car lover in your life from our hand-picked selection of car-related presents fit for any special event. 
Best Gifts for Car Lovers
1. Custom Car Portrait
Respoke Collection Custom Car Print in Poster or Canvas
Let's face it, if they can spend 24 hours with their cars, they surely would! Unfortunately, they have to park it and walk away at some point. But you can cheer up any car lover with a gift that celebrates his strong bond with his car – a custom car portrait from Respoke Collection!
A true car lover already considers their four-wheeled friend a work of art, but a museum-quality print of their ride will cement that fact. The order process is simple: get the best, top-quality photo of their car, and Respoke Collection's designers will create the illustration for you, capturing every detail, including the license plate! They were even recently voted one of the top gifts from publications like Garage Weekly. Approve the car illustration or ask for revisions (unlimited option!), select whether you want it in a poster, framed poster, or canvas, and wait for your artwork in the mail. 
2. Nice Pair of Driving Gloves
Autodromo Stringback Driving Gloves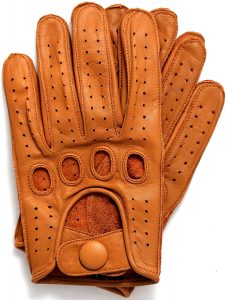 When you think of the best gifts for car lovers, you probably haven't thought about getting them gloves. True, it may not be the most exciting gift option, but every avid car driver needs a good pair of gloves, if not the best. It's not for professional car drivers either! A high-quality pair of gloves gives superior grip and control while driving, especially in critical times. They can play a big role when it comes to both performance and safety. Plus, they make joy rides more comfortable and less chilly during the fall and winter seasons. 
All that function plus the style and luxury equals the string back driving gloves from Autodromo – handmade by master craftsmen in Italy! These fingerless mitts are super soft and comfortable, made of Nappa lambskin, and provides excellent grip on the wheels. You may think it only works for classic wood-rimmed wheels, but this pair is suitable for all cars. They probably already have the four-wheel of their dreams, but you can let them live luxuriously by giving them these driving gloves. 
3. PitStop Furniture by Intro-Tech
Get on AutoAccessoriesGarage.com 
Price $49.00-$599.00
If only they could spend all day driving their favorite car, right? Do you know any car lovers who just want to spend their entire day behind the wheel if they could? What do you even give someone who drives or works on their car 24/7, unless responsibility beckons them to the office?
How about office furniture that gives them the same vibes as when they are behind the wheels? You bet they would love that. It might be more expensive than outfitting their office with typical office furniture, but building this automotive-inspired furniture set is worth it once you see their face. It brings their love of automobiles right into the office. 
You can mix and match different furniture elements, from a racing desk instead of a typical office desk to a diamond plate chair mat, just like the one they have in their car. You can even choose from the different chairs available. Does Formula One, GT, and Grand Prix sound familiar? Each chair series even comes with a racing suspension spring, racing-style wheels, and a brake caliper base. 
They can now stay at a desk working the entire day but still get the feeling like they are cruising in their favorite car. Everything about the furniture in this collection screams automotive racing, from the feel, design, and colors – their own race car at the office. 
4. Complete Car Tool Kit
DEKOPRO 168-Piece Socket Wrench Car Tool Kit, available on Amazon
If you're looking for the all in one solution to maintaining your car, look no further than the complete car tool kit. There's a variety of over 168 combinations of ratchets, wrenches, hammers, sockets, tape measures and more – all incredibly high quality! This is the perfect gift for the roadside emergency or the dad who spends a little too much time under the hood.
5.
Portable Tire Inflator
Black & Decker Max Cordless Tire Inflator, available on Amazon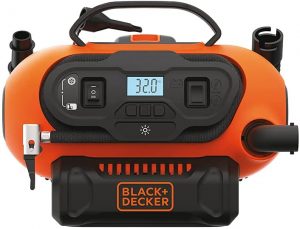 Nothing's more frustrating than getting stranded in the road waiting for a rescue that takes hours to come because of a flat tire. Every car lover needs the insurance of having air on-demand, saving them the hassle of a hefty roadside assistance fee or a trip to the nearest gas station (which can be a few miles out!). These roadside problems can be out of the way – with the right tools in the trunk! 
Give your favorite car lover a helping hand, even when you are not there! A portable tire inflator is what they need when dealing with emergency tire problems. They can even ditch the annoying cord with this Black & Decker cordless, portable tire inflator. It has two power options: the 12-V DC cigarette lighter of the car or the 20-V battery. The compressor comes with an easy-to-read gauge display and auto-shutoff function – it stops once the inflator reached the indicated pressure. It's not only functional for car lovers but a safe tool to have on the drive too. Plus, it's a handheld compressor, so it won't take too much space inside your trunk. 
Ready to Start Shopping?
Now, you don't have any excuse to let your favorite car lover go without a fantastic gift he/she will surely love, whether it's for his/her birthday, anniversary, holidays, or any special day really. If you don't have the know-how when it comes to shopping for car lovers, you bet our list of the coolest gifts  is much better and more thoughtful than a Starbucks or Amazon gift card.
Make any special event a lot more special by giving them a gift that speaks to their automotive passion. These products are mostly what we already own, use, and love – certified car lover-tested and approved!