Last Updated on August 26, 2022 by John Robinson
Cooper tires are synonymous with reasonably priced specialized tires. Among its offerings is the Cooper CS3 Touring Tire, a touring all-season tire that can fit all-weather conditions. 
This model is relatively new, having replaced the older GLS. The manufacturer introduces improvements through this one.
In this review and buying guide, you will learn about the Cooper CS3, the factors to consider when buying tires, and the prices of Cooper Tires products. Let's check it out.
What Is Cooper CS3 Touring?
The CS3 Touring is Cooper's Standard Touring All-Season tire developed for the drivers of coupes, sedans and crossovers looking to combine a comfortable ride and long life with confident traction in all weather conditions, even in light snow.
The CS3 Touring utilizes an all-season compound molded into a symmetric design for easy rotation patterns to combat uneven wear. Coupled tread elements and Cooper's Stabiledge Performance reduce flex for increased stability and precise handling. Four deep, circumferential grooves and wide lateral notches help to evacuate water from the contact patch for hydroplaning resistance, and 3D sipes throughout the footprint create the biting edges needed for grip on wet or snowy surfaces.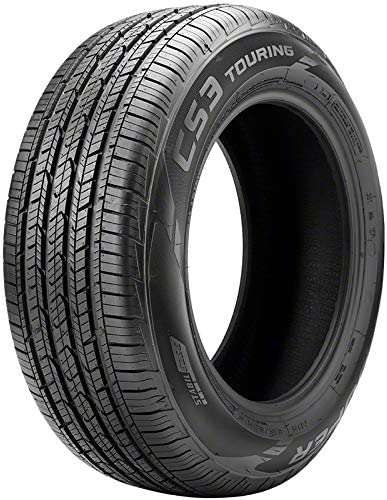 Internal construction of the CS3 Touring consists of a high-turnup, single ply polyester casing supporting two wide, steel belts. A nylon reinforcement ply aids handling and high-speed durability.
Unlimited Time / 65,000 Miles (T-Speed Rated)  Unlimited Time / 60,000 Miles (V- & H-Speed Rated)  Half mileage for rear if different size than front
Cooper's latest addition to their tire lineup, the CS3 Touring, is a replacement to the older GLS model and designed to provide quiet ride comfort, a longer treadlife and increased fuel efficiency due to its lower rolling resistance. Built for today's coupes, sedans and minivans, the CS3 Touring features some of Cooper's newest tire technology.
A new touring tread compound combines with a wider footprint to give the CS3 enhanced dry traction and handling. Cooper has incorporated its exclusive StabilEdge technology into the tire's center and intermediate ribs. The result is quicker and more responsive steering, increased handling and cornering grip, as well as better overall stability at all speeds. These features are noticeable and a major improvement in performance over the older GLS.
Four circumferential grooves and 3D Micro Gauge Siping helps the CS3 deliver excellent traction on wet road surfaces, while also reducing the risk of hydroplaning. An added benefit to the 3D sipes is enhanced winter traction on snow or icy pavement, which is an area this tire excels in.
Cooper has created the CS3 to be more comfortable and quiet by using a newly-designed pitch sequence in the tread that virtually eliminates annoying outside road noise, something that has been mentioned in many driver reviews of this model as a real plus. While increased fuel economy was not a main focus with this tire, it features a 6% decrease in rolling resistance over the older GLS. That should translate into a little extra fuel efficiency.
Inside the tire you'll find twin steel belts that are spirally wrapped with nylon for added durability and ride comfort. Cooper offers sizes ranging from 14 to 18 inches, and includes a 65,000 mile tread warranty. The CS3 is also available with either a T, H or V-speed rating.
The new Cooper CS3 Touring has several good things going for it. Traction and grip on dry, wet and even snow covered surfaces is very good. You feel confident when driving in all types of road and weather conditions. The steering is responsive and delivers excellent feel, while tire stability is a plus throughout the speed range. Our only complaint, if you really even want to call it that, is the softer sidewall which affects more spirited cornering performance, although to be fair, this isn't billed as a sports car like high performance tire.
Overall, this is an excellent basic touring all-season tire that ranks among the top models in this class. Highly recommended.
Pros:
Excellent all-season traction
Tire stability
Quiet ride
Long lasting treadlife   
Cons:
Cornering grip for more spirited drivers 
[su_button url="https://www.amazon.com/dp/B00K80XD24?tag=buckeyeb-20″ target="blank" size="9″ center="yes" icon="icon: shopping-cart" rel="nofollow"]View On Amazon[/su_button]
How to Buy A Touring Tire
Choosing the right tire should not be hard or confusing. If you need to buy a touring tire, or any tire, for that matter, considering these factors can help you find the best fit:
Tire Code
This refers to the alphanumeric code molded into the sidewall. The first letter is optional and tells you the vehicle class the tire serves. If you see it, the tire is designed to the specifications of the Tire and Rim Association, Inc. or TRA. 
P – Passenger Car
LT – Light Truck
ST – Special Trailer
T – Temporary, (used for small spare tires)
You can check out the diagram below to learn about the rest of the code's components.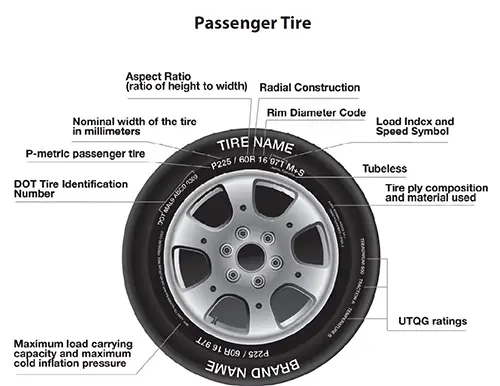 From the image above, you now have an idea about where to locate the rim diameter. This is what we talk about when we mention sizes in inches. In the example, the number is 16. This means the rim diameter that can fit your car's tire is 16 inches. The most common sizes range from 14 to 22 inches. 
Aside from the sidewall, you can find this in the manual, the door jamb on the driver's side, the glove compartment door, and the gas tank hatch.
Pay attention to the code as its content can help you determine a few more things in your search for new tires. 
Weather Conditions
What is the climate in your area? If you are driving the most in a temperate region, then you can opt for all-season tires or summer tires or a mix of both.
If you experience below-freezing temperatures but not at extreme points, you can choose one set of summer tires and winter tires or one set of all-season tires.
If you have heavy snow or ice in your place, you may need a separate set of winter tires apart from your summer tires or all-season tires.
The CS3 is a touring all-season tire, so you can use it in any situation. It's all you'll need for driving in moderate winter conditions, as well as dry and wet ones.
Road Types
Where you'll spend most of your time driving is another important factor. It can inform you about what else to look for. For instance, if you will use your tires mostly for urban city driving, you will need tires with low rolling resistance, optimal braking, and long tread life.
Comfort matters if you're going to be on the highway often. Superior grip and stability, as well as a good braking response at high speed, also count. 
If you pass through unpaved roads a lot, you may search for durable off-road tires.
Driving Style
If you want a quiet and comfortable ride, you can choose touring tires with lower speed ratings, such as S, H, and T. You can also find the speed rating on the tire's sidewall. As a rule of thumb, you should never go below the speed recommended by your tire manufacturer. Touring tires can fall into this category.
Performance tires, on the other hand, can prove to be stiffer yet more precise. Handling and steering response are highlighted in these tires. They can let you feel the curves as you drive. They also have higher speed ratings, which make them great for highway driving.